'We're in Deep Sh*t': Ousted Vaccine Director Rick Bright Recalls Coronavirus Outbreak Reaction During Hearing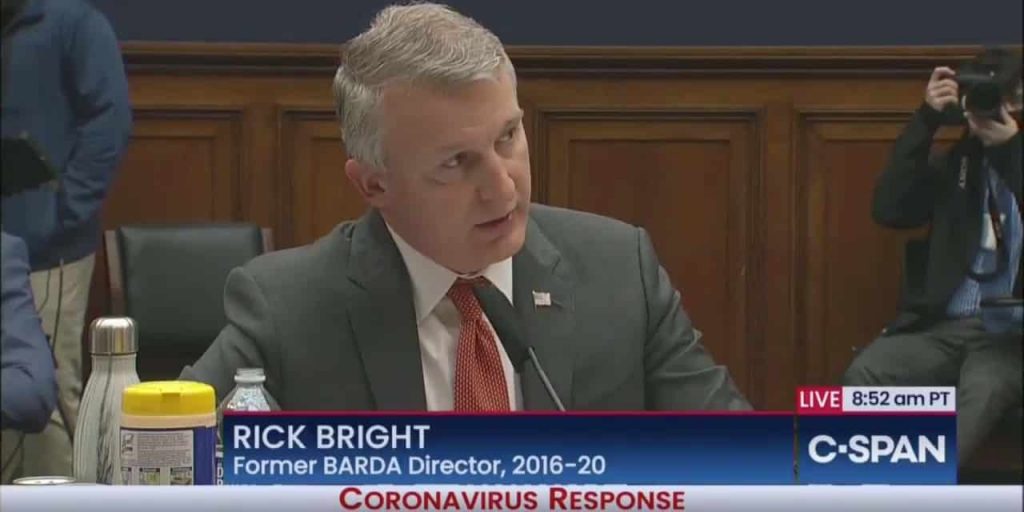 In his testimony before Congress, ousted vaccine director Dr. Rick Bright, bluntly recalled the moment that he realized that the United States was not prepared for the coming coronavirus pandemic.
Bright said on Thursday, "I'll never forget the emails that I received from Mike Bowen indicating that our mass supplier, N95 respirator supplier, was completely decimated, and he said, 'We're in deep sh*t, the world is, and we need to act.'"
Mike Bowen leads a medical supply company called Prestige Ameritech and offered his services to the government in late January as the "last major domestic mask company."
Bright added, "I pushed [Bowen's remarks] forward to the highest levels I could in HHS and got no response. From that moment, I knew that we were going to have a crisis for our healthcare workers because we were not taking action. We were already behind the ball."
He continued, "That was our last window of opportunity to turn on that production to save the lives of those healthcare workers and we didn't act."
"We're in deep shit" — Bright talks about a moment from this winter when he realized the US government was unprepared for the coronavirus pic.twitter.com/gT5hCPXmZ6

— Aaron Rupar (@atrupar) May 14, 2020
Bright is the former director of the Biomedical Advanced Research and Development Authority (BARDA) and the Office of Special Counsel. He was removed in April. Asked about Bright's ousting in late April, President Donald Trump refused to answer the question.
In a formal whistleblower complaint, Bright said that contracts were being awarded to "companies with political connections to the administration." The complaint claimed that "HHS leadership pressured Dr. Bright and BARDA to ignore expert recommendations and instead to award lucrative contracts based on political connections and cronyism."
Bright's testimony before Congress on Thursday offered harrowing warnings, telling lawmakers, "Our window of opportunity is closing … Without clear planning and implementation of the steps that I and other experts have outlined, 2020 will be darkest winter in modern history," as his prepared remarks read.