Mitt Romney Given Award for Voting To Convict Trump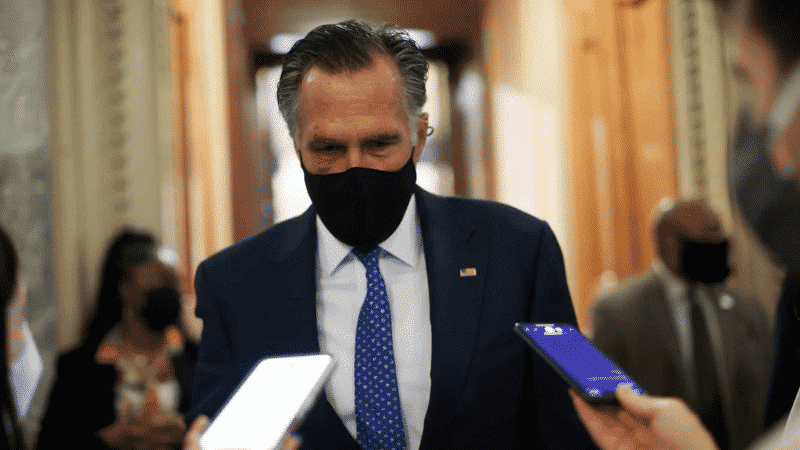 Sen. Mitt Romney (R-Utah) was granted an award for his vote to convict former President Donald Trump.
The senator was given the John F. Kennedy "Profile in Courage Award" on Friday for his vote in Trump's first impeachment trial in 2020, "and his consistent and courageous defense of democracy," John F. Kennedy Library announced. The Senate acquitted Trump in February 2020.
"As the first Senator to have ever voted to convict a President of his own party, Senator Romney's courageous stand was historic," the announcement continues.
"In February 2020, after weighing evidence that then-President Donald Trump withheld Congressionally authorized military aid for political gain, Romney voted to convict Trump for abuse of power.

[…] Despite facing unrelenting criticism and public antagonism following this vote, along with threats to his physical safety and demands that he be censured or expelled from the Republican party, Romney has continued to courageously defend the fundamental principles of democratic governance."
Romney is also applauded for "[defending] the integrity of the [2020 presidential election results] and [opposing] efforts to overturn the decision of the Electoral College."
The Utah senator also voted to convict Trump in the second impeachment trial. The Senate acquitted Trump on the charge of "incitement of insurrection" following Jan. 6. Romney was among seven Republicans who joined Democrats in convicting Trump on the charge.
Defending his vote to convict Trump, Romney previously said, "I consider an attempt to corrupt an election to keep oneself in power one of the most reprehensible acts that can be taken by a sitting president."
Despite his distaste for Trump, Romney has shared that he believes if Trump were to run for president in 2024 that he would win the Republican Party's nomination, as IJR reported on.
"I don't know if he's planning to run in 2024 or not, but if he does, I'm pretty sure he will win the nomination," Romney said during an interview with the New York Times' DealBook in February.
He also said, "If you put President Trump in there among Republicans, he wins in a landslide," pointing to polls of potential contenders for the 2024 presidential election.
In 2019, House Speaker Nancy Pelosi (D-Calif.) was given the "Profile in Courage Award" for "putting the national interest above her party's interest to expand access to health care for all Americans and then, against a wave of political attacks."