News
Sanders Admits There Is a 'Real Danger' Biden's Agenda Could Fail in Congress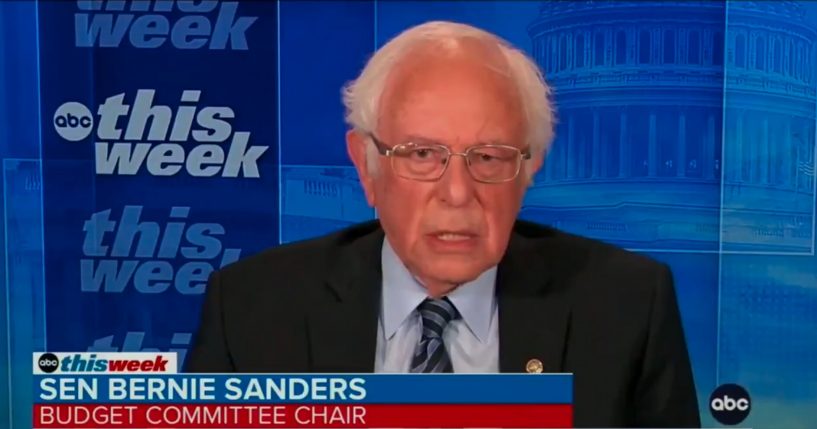 As Democrats in Congress work to hammer out a compromise on a bipartisan infrastructure bill and a larger spending bill, Sen. Bernie Sanders (I-Vt.) is acknowledging that much of President Joe Biden's domestic agenda could be derailed.
During an appearance on ABC's "This Week" on Sunday, Sanders said that it is possible that moderate and progressive Democrats could fail to reach a compromise on a $3.5 trillion spending bill, which could also doom the smaller roughly $1 trillion bipartisan infrastructure package.
"That is a possibility, and I think that would be a disaster for the American people," Sanders said.
Advertisement - story continues below
He continued, "I would surmise that over 90% of Democrats, over 40 Democrats in the Senate, would prefer to spend what I propose — $6 trillion — because they understand the needs facing working families and climate are so great."
"A major compromise has already been made. And there is a real danger, a real danger, that the infrastructure bill will lose in the House," he added as he noted several lawmakers have vowed to block it if provisions addressing climate change are stripped from the bill.
Watch the video below:
Bernie Sanders acknowledges it's possible that no infrastructure bill at all gets through Congress and says, "I think it would be a disaster for the American people." pic.twitter.com/Ul3txgvc1R

— Aaron Rupar (@atrupar) September 12, 2021
Advertisement - story continues below
His comments come ahead of what is expected to be a busy time for Congress as lawmakers work to hammer out a deal to pass the two bills.
Democrats are looking to use a process known as budget reconciliation, which would be immune from a Republican filibuster, to pass the spending bill and let them pass the legislation with just 51 votes.
In order for Democrats to get the spending bill across the finish line in the Senate, all 50 Democratic senators would have to vote for it, and Vice President Kamala Harris would have to cast the tie-breaking.
As the Associated Press notes, the spending bill is "stocked with hard-fought party goals like child care, paid family leave and Medicare expansion, along with green infrastructure spending."
However, Sinema and Manchin have both expressed opposition to a spending bill with a $3.5 trillion price tag.
Advertisement - story continues below
If the spending bill fails to pass the Senate, or if drastic changes are made, it could imperil a smaller bipartisan infrastructure bill.
Rep. Alexandria Ocasio-Cortez (D-N.Y.) said in July, "We have made the stand and we said, 'We will tank the bipartisan infrastructure bill unless we also pass the reconciliation bill.'"
"And so it goes both ways right? If Manchin and in the Senate, if they approve our reconciliation bill, we will approve their bipartisan bill. And if they try to strip immigration reform, if they try to claw back on childcare, climate action, etc., then we're at an impasse. It's a no-go," she added.
Truth and Accuracy
We are committed to truth and accuracy in all of our journalism. Read our editorial standards.
Comment Down Below
Conversation