News
Sanders Calls GOP Decision To Block Voting Rights Bill a 'Total Outrage'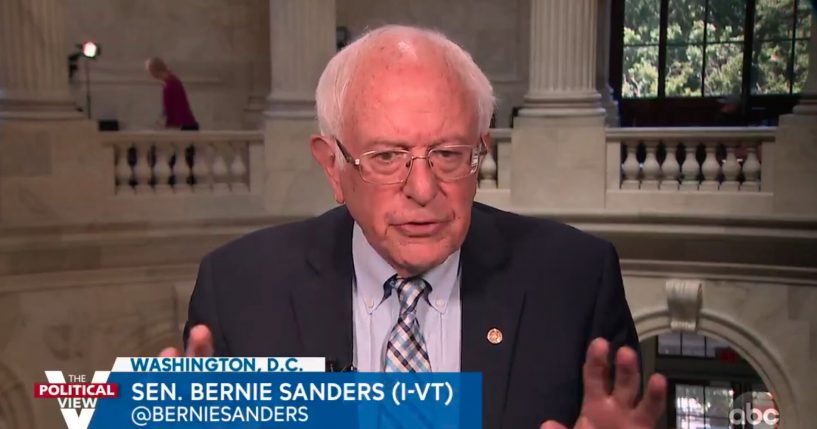 Sen. Bernie Sanders (I-Vt.) is expressing outrage with his Republican colleagues for blocking Democrats' sweeping For the People Act.
During an appearance on ABC's "The View" on Wednesday, Sanders was asked what Democrats' path forward is for their legislation to expand access to voting.
"What Republicans did yesterday is a total outrage. We can disagree on issues, on healthcare, education, climate. But, we should not disagree [on] whether or not Americans have the fundamental right to vote whether you're Black, whether you're young, whether you're Latino, whether you're disabled," he responded.
Advertisement - story continues below
He went on to claim that Republican state lawmakers are "in a totally cowardly way" making it harder for people to vote.
"I do believe we should initiate an end to the filibuster on that bill. And with the vice president, we can have the 51 majority votes that we need in order to protect the rights of the American people to participate in a democratic political process," he added.
Watch the video below:
Sen. @BernieSanders calls the Senate GOP blocking the voting rights reform bill "a total outrage": "We should not disagree [on] whether or not Americans have the fundamental right to vote."

"We should initiate an end for the filibuster on that bill." https://t.co/f8u2wbJuik pic.twitter.com/ogY3bjY0Mc

— The View (@TheView) June 23, 2021
Advertisement - story continues below
Sanders' comments come after Senate Republicans blocked Democrats from beginning debate on their sweeping election reform bill, the For the People Act, as IJR reported.
As the Brennan Center for Justice notes, the bill would "would make it easier to vote in federal elections, end congressional gerrymandering, overhaul federal campaign finance laws, increase safeguards against foreign interference, strengthen government ethics rules, and more."
The bill would require states to provide automatic voter registration when people give their information to government agencies such as the Department of Motor Vehicles, and require states with voter identification laws to let people vote if they have a sworn written statement attesting to their identity.
However, Republicans have blasted the bill as a "power grab" and put up stiff resistance to it.
The bill comes as Republican lawmakers in state legislatures across the country are introducing bills that have provisions that have been accused of trying to make it hard to vote.
Advertisement - story continues below
Republicans have defended the laws arguing that in some cases, they provide more access to voting than other states. However, critics argue that Democrats are trying to expand voting opportunities while Republicans, in some cases, are implementing restrictive measures.
Truth and Accuracy
We are committed to truth and accuracy in all of our journalism. Read our editorial standards.
Conversation