Bernie Sanders Talks About Becoming Viral Meme at Biden's Inauguration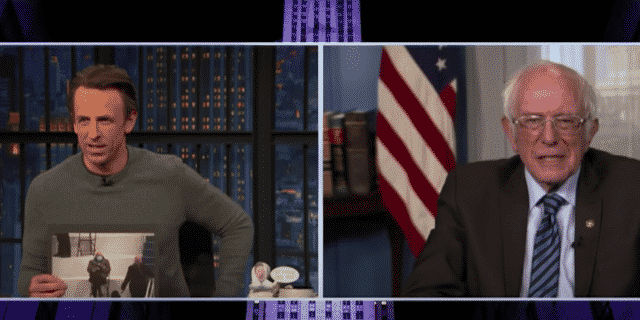 Sen. Bernie Sanders (I-Vt.) became a meme after a photo of him bundled up at President Joe Biden's inauguration went viral.
Appearing on "Late Night with Seth Meyers," host Seth Meyers asked Sanders about the moment of the senator with his winter coat and mittens at the inauguration that was turned into a meme.
Meyers asked Sanders if he knew immediately about becoming a viral hit, the senator said, "Not at all."
Sanders added, "I was just sitting there trying to keep warm, trying to pay attention to what was going on."
Watch his interview below:
Sanders later added, "What's really nice is the woman who made the mittens, who lives in Essex Junction, Vermont, she is a school teacher and a very, very nice person. And she's been somewhat overwhelmed by the kind of attention that is being shown to her mittens."
Check out the memes below:
Some of my favorite Bernie Sanders sightings today: pic.twitter.com/Pxta5BO7Uu

— Seth Abramson (@SethAbramson) January 21, 2021
Bernie Sanders mood. pic.twitter.com/VdcLSsPYHI

— GOOD (@good) January 20, 2021
NOT BERNIE SANDERS STARK??!!
💀💀💀💀💀💀💀💀💀 pic.twitter.com/xklU9v2sKH

— Jessica Fyre 💫 (@TheJessieWoo) January 21, 2021
bernie sanders can go anywhere#InaugurationDay #BernieSanders pic.twitter.com/gek4LUfif0

— Madeline Carl (@madeline__carl) January 20, 2021
Bernie Sanders tonight pic.twitter.com/QZgBngSP1B

— Mike Denison (@mikd33) January 21, 2021
Late-night television talk show host James Corden also took a poke at the viral photo of Sanders during his show, where there were cardboard cut-outs of Sanders.
"Speaking of break out stars of the inauguration, we have another one with us," Corden said.
Sanders' team also created a "Chairman Sanders Crewneck" sweater with the image of the senator at the inauguration with his crossed legs.
"Vermont jacket, Vermont gloves, Vermont common sense," the description of the sweater reads.
Additionally, the National Bobblehead Hall of Fame and Museum is creating a bobblehead of Sanders.
🚨 OFFICIAL CHAIRMAN SANDERS SWEATER 🚨

Made in the USA, Union printed. 100% of proceeds go to Meals on Wheels Vermont. https://t.co/Nv8Ng0K217 pic.twitter.com/yfXOsp3acX

— People for Bernie (@People4Bernie) January 22, 2021
Biden was sworn in by Chief Justice John Roberts on Wednesday, and Vice President Kamala Harris was sworn in by Supreme Court Justice Sonia Sotomayor.