Schiff: Barr's Statement on China Election Security Threat Is 'Blatantly False'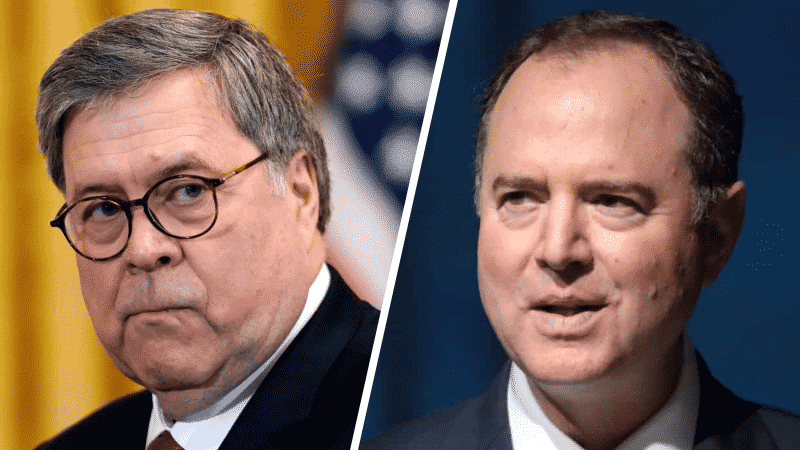 Rep. Adam Schiff (D-Calif.) is making it clear he thinks Russia is trying to sow misinformation in the upcoming election more than China. He accused Attorney General William Barr of "flat-out" misleading the American people regarding what country is a bigger election security threat.
Barr was asked by CNN's Wolf Blitzer during an interview on September 2 which country — out of Russia, China, and Iran — is the "most aggressive" when it comes to alleged interference in the U.S. elections.
"I believe it's China," Barr responded, adding, "Because I've seen intelligence. That's what I've concluded."
Schiff was asked during a CNN interview on Sunday if he has seen evidence that China is a bigger election security threat than Russia in the upcoming presidential election. However, the Democratic lawmaker slapped down that claim.
"That's just a plain false statement by the attorney general. A flat-out false statement," Schiff said. "What Bill Barr just did in that statement was just flat out mislead the American people with a blatantly false statement."
Schiff then claimed that Barr is trying to help President Donald Trump's reelection.
"Apparently Bill Barr is ready to do anything or say anything to help Donald Trump."
Asked if the attorney general is lying, Schiff answered, "That is basically what he is doing. And I hesitate to say that, but it is the reality."
Watch Schiff's interview below:
The Department of Homeland Security issued a warning on Thursday that Russia has sought to spread "disinformation" that mail-in voting will lead to widespread fraud, according to an intelligence bulletin obtained by ABC News.
The bulletin notes, "We assess that Russia is likely to continue amplifying criticisms of vote-by-mail and shifting voting processes amidst the COVID-19 pandemic to undermine public trust in the electoral process."
Sen. Kamala Harris (D-Calif.) weighed in on potential election interference when she was asked about DHS's bulletin during a CNN interview.
Asked if she is "worried that Russia interference could cost you the election," Harris responded, "I am clear that Russia interfered in the election of the president of the United States in 2016."
She continued, "I serve on the Senate Intelligence Committee. We have published detailed reports about exactly what we believe happened. And I do believe that there will be foreign interference in the 2020 election and that Russia will be at the front of the line."
See Harris' comments below:
Q: "Are you worried that Russia interference could cost you the election?"

Sen. Kamala Harris: "…Theoretically, of course." pic.twitter.com/9L2yJ8pkEI

— The Hill (@thehill) September 6, 2020
Asked again if it could cost Harris and Democratic presidential candidate Joe Biden the White House, Harris said, "Theoretically, of course."