News
Schiff Claims 'There Were Signs' That Mueller Had Suffered a Cognitive Decline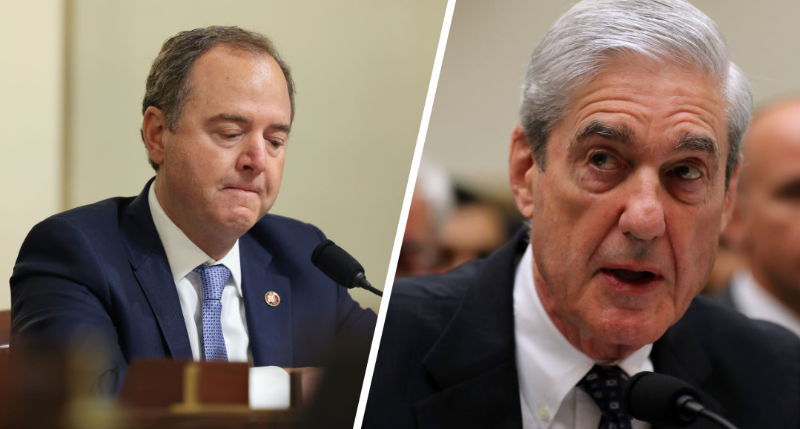 House Intelligence Committee Chairman Adam Schiff (D-Calif.) is not saying whether he believes former Special Counsel Robert Mueller experienced a cognitive decline. Still, he believes there were "signs" of a decline.
In an interview with NPR discussing his forthcoming book "Midnight in Washington," Schiff was asked by host Michel Martin, "I don't think there's any dispute that his testimony, his – the report was one thing, but his testimony itself was disjointed — I don't want to say incoherent, but difficult to follow. Do you think that he was experiencing cognitive decline at that time?"
"This was one of the most difficult parts for me to write in the book because I remember so vividly being in the intelligence committee," Schiff began. "I watched in utter shock at the changes that had been wrought. He is, I think, one of the greatest public servants, a decorated Vietnam veteran, a man with impeccable integrity who served as FBI director and distinguished himself in every way. But he was not the same man I knew."
Advertisement - story continues below
Martin asked if Mueller should have been in charge of the Russia probe "if he was experiencing cognitive decline."
"I can't answer that. But I did understand immediately why his staff had been so protective and why they were so reluctant to have him testify," Schiff responded. He continued:
"And I immediately told our members we need to cut down our questions. We can't ask for narrative answers. We need to be very precise in what we ask. We need to have the page references of the report ready. And it was painful. Honestly, it was painful. And I – if I had known, I would not have pushed for his testimony."
Listen to the interview below:
Advertisement - story continues below
When asked why Schiff did not know about a potential decline, he said Mueller's team had a "real protective instinct."
"We did get some inkling as we negotiated over the format of the hearing that we were better off with shorter periods of questioning. And – so there were signs. But I didn't know whether to believe some of the public rumors because President Trump had an incentive to malign Bob Mueller. And people around him were maligning him in all kinds of false and terrible ways," he added.
After Mueller's testimony about his investigation into Russian interference in the 2016 election, there were questions raised about his cognitive ability.
In Jan. 2020, The Washington Post's Carol Leonnig and Philip Rucker told CNN that in the course of reporting for their book "A Very Stable Genius," friends of Mueller told them they believe "something happened to him" during the course of the investigation.
Advertisement - story continues below
"Phil and I, my co-author, we are not medical professionals, but over and over again, John, we heard from people who are very close to Bob Mueller who found him a different person, a changed person, after two years of this investigation," Leonnig said.
Truth and Accuracy
We are committed to truth and accuracy in all of our journalism. Read our editorial standards.
Comment Down Below
Conversation