News
Schiff Reveals What He Thinks Will Happen If McCarthy Becomes Speaker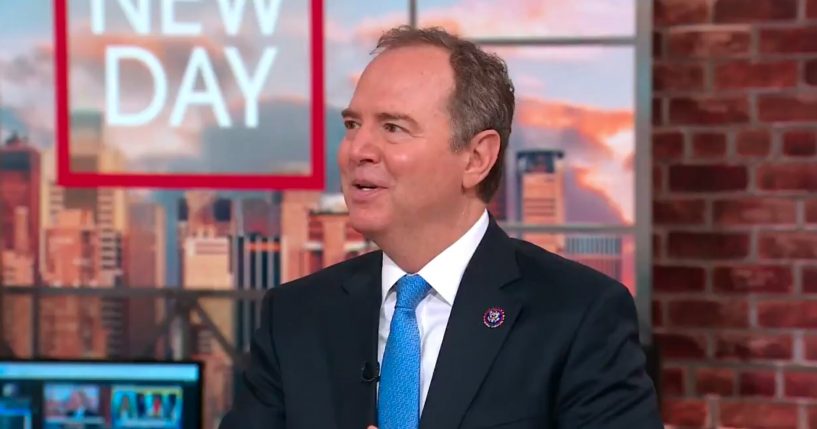 House Intelligence Committee Chairman Adam Schiff (D-Calif.) predicts "disaster" will ensue if Republicans make House Minority Leader Kevin McCarthy (R-Calif.) the speaker if Republicans win control of the chamber.
During an appearance on CNN's "New Day" on Wednesday, host John Berman asked the California Democrat, "What happens if Kevin McCarthy becomes speaker?"
"Disaster because he will do anything that Donald Trump tells him," Schiff responded. "We cannot have someone with absolutely no reverence for the truth, no willingness to uphold his oath in that position, in line to the presidency."
Advertisement - story continues below
He continued, "Donald Trump doesn't need to be appointed speaker if Kevin McCarthy is, because essentially Donald Trump will control whatever he does."
Watch the video below:
John Berman: "What happens if Kevin McCarthy becomes Speaker?"

Rep. Adam Schiff: "Disaster because he will do anything that Donald Trump tells him." pic.twitter.com/vMF3JnWWb4

— The Hill (@thehill) October 13, 2021
Berman asked, "Is Kevin McCarthy an insurrectionist in a suit and tie?"
Advertisement - story continues below
"Absolutely, absolutely," Schiff said, adding, "This is someone who I had a private conversation with years ago, [he] went to the press and completely misrepresented it, and I confronted him about it on the House floor."
He continued, "I said, 'Kevin, you know, I said the exact opposite of what you told the press.' He says, 'Yeah, I know Adam, but you know how it goes.' And that's how he operates. And this to me is among the most gross of things of the Trump presidency, which is the relentless attack on the truth, the idea that they're all entitled to their own alternate facts."
Do you think "disaster" would follow?
In February, Schiff also took aim at McCarthy during an appearance on MSNBC. He said, "Kevin McCarthy stands for nothing except the perpetuation of his own position. He has no values, and in my view, cares about little except for hoping to be speaker one day."
And in January, the California Democrat blasted McCarthy after he met with former President Donald Trump and posed for a picture. He claimed, "What Kevin McCarthy is saying in that photo is, 'I don't stand for anything, I don't care about anything, I accept my own personal ambition.'"
"'And if I have to embrace someone who just incited an insurrection against the Capitol that resulted in multiple deaths, then I will do it,'" he added.
Truth and Accuracy
We are committed to truth and accuracy in all of our journalism. Read our editorial standards.
Conversation