Commentary
Schumer, Jeffries Issue 'Demand' for What Fox News Should Do to Its Hosts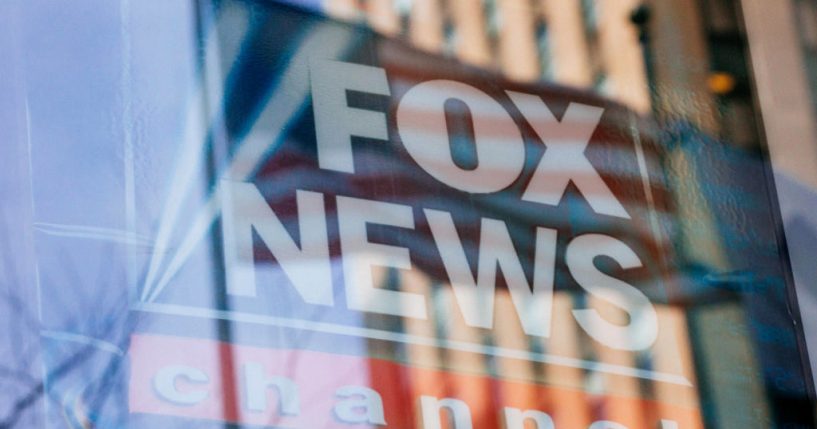 The two top Congressional Democrats are issuing a demand to the executives at Fox News.
In a letter on Wednesday, Senate Majority Leader Chuck Schumer (D-N.Y.) and House Minority Leader Hakeem Jeffries (D-N.Y.) demanded the top executives at Fox News intervene to prevent its hosts from sharing unfounded theories about the 2020 election.
"As noted in your deposition released yesterday, Tucker Carlson, Sean Hannity, Laura Ingraham, and other Fox News personalities knowingly, repeatedly, and dangerously endorsed and promoted the Big Lie that Donald Trump won the 2020 presidential election," they wrote. "Though you have acknowledged your regret in allowing this grave propaganda to take place, your network hosts continue to promote, spew, and perpetuate election conspiracy theories to this day."
Advertisement - story continues below
It went on, "We demand that you direct Tucker Carlson and other hosts on your network to stop spreading false election narratives and admit on air that they were wrong to engage in such negligent behavior."
"As evidenced by the January 6 insurrection, spreading this false propaganda could not only embolden supporters of the Big Lie to engage in further acts of political violence, but also deeply and broadly weakens faith in our democracy and hurts our country in countless other ways," the letter added.
NEW: @SenSchumer & @RepJeffries have sent a ltr to Rupert Murdoch and Fox News execs after the Murdoch deposition was released calling on them "to stop spreading false election narratives and admit on the air that they were wrong to engage in such negligent behavior." pic.twitter.com/QzzkJ91ERw

— Frank Thorp V (@frankthorp) March 1, 2023
The letter refers to some pretty stunning tidbits from deposition in Dominion Voting Systems' $1.6 billion defamation lawsuit against Fox News.
Advertisement - story continues below
On Monday, testimony was released from Rupert Murdoch, the chairman of Fox News' parent company, in which he admitted that "some of our commentators were endorsing" conspiracy theories about the 2020 election.
"I would have liked us to be stronger in denouncing it, in hindsight," he added.
Still, Murdoch insisted the network did not promote such claims and instead treated it "as news that the president and his lawyers were saying this."
A legal filing from Dominion also alleged Fox News' top talent privately doubted former President Donald Trump's claims about the 2020 election.
The network told The New York Times in a statement, "Dominion has mischaracterized the record, cherry-picked quotes stripped of key context and spilled considerable ink on facts that are irrelevant under black-letter principles of defamation law."
Advertisement - story continues below
If Fox News hosts did not believe the claims they were giving air time to, they did a grave disservice to their viewers by advancing unfounded claims and leading their audience to believe something they knew was false. And they may have run afoul of defamation law.
This letter from Schumer and Jeffries is mostly like two men writing angry letters to Fox News executives about something they did not like. It does not carry too much weight. There will not be Congressional action toward Fox News as it is hard to see how censoring a claim or even a conspiracy theory would not violate the First Amendment.
Still, the language is disturbing. Members of Congress should not be demanding outlets covered by the First Amendment censor views or theories. And they certainly should not be demanding executives force their talent to say something on air — in this case, an admission they shared false information about the election.
Such behavior is what you see in nations with authoritarian regimes, such as Russia and China. It is not what you expect to see in a free and open society.
Advertisement - story continues below
They should just let the defamation trial take its course. And if Fox News winds up having to pay a substantial sum for its hosts' behavior, then that is the price it will pay.
Truth and Accuracy
We are committed to truth and accuracy in all of our journalism. Read our editorial standards.
Comment Down Below
Conversation