News
Sen. Barrasso Says He Wants To Make Biden a 'One-Half-Term President'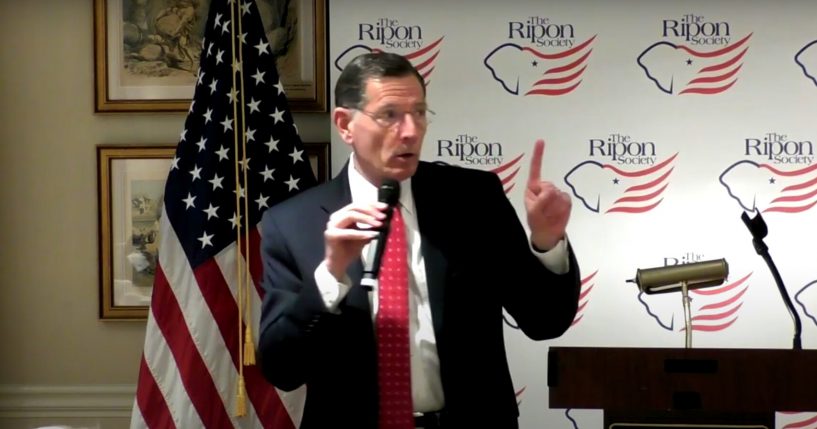 Sen. John Barrasso (R-Wyo.), the No. 3 Republican in the Senate, says he wants to block President Joe Biden from getting much done after the 2022 midterm elections.
Speaking at an event hosted by the Ripon Society on Tuesday, Barrasso said, "I'm looking forward to a very successful 2022. Mitch McConnell came under a lot of criticism for saying at one point he wanted to make sure that Barack Obama was a one-term president."
"I want to make Joe Biden a one-half-term president. And I want to do that by making sure they no longer have the House, Senate, and White House," he continued.
Advertisement - story continues below
Barrasso went on to claim that Biden will "never veto a bill" passed by Congressional Democrats.
"He'll go down in history as a president who has never vetoed a bill because he will sign whatever Chuck Schumer and Nancy Pelosi put on his desk, period. He's not going to get anything he doesn't agree to sign. He's just along for the ride right now," he said.
Watch the video below:
Advertisement - story continues below
He also claimed that Democrats are "heading as far to the left as they can."
"Senate Democrats recently had a meeting, and there was a discussion. One of the Democrat senators told me that he said, 'Look, we can do all this spending and taxes, but we're going to lose the House or the Senate, or maybe both in two years.' To which Bernie [Sanders] said, 'Oh, we're going to lose them. We've got to do everything now. This is our only chance!'" Barrasso added.
Democrats currently control the House and Senate but have thin majorities in both chambers, and Republicans are hoping to win back both in the midterm elections.
Barrasso's comments reference Senate Minority Leader Mitch McConnell's (R-Ky.) 2010 comment when he said, "The single most important thing we want to achieve is for President Obama to be a one-term president."
Truth and Accuracy
We are committed to truth and accuracy in all of our journalism. Read our editorial standards.
Comment Down Below
Conversation