News
GOP Senator Asks Blinken Who Has the 'Authority' To 'Cut Off' Biden's 'Speaking Ability'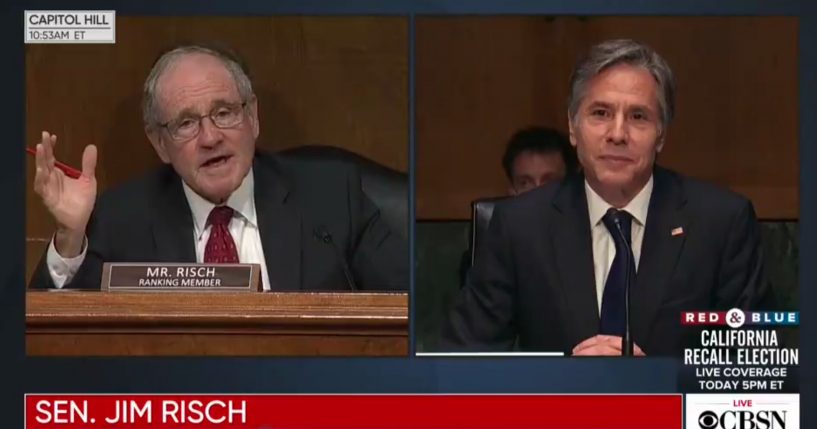 Sen. Jim Risch (R-Idaho) believes someone in the White House has the ability to silence President Joe Biden and wants to know who that is.
Risch took time to try to extract that alleged individual's identity from Secretary of State Antony Blinken during a Senate Foreign Relations Committee hearing on the withdrawal from Afghanistan.
"I'm more interested in the top decision making. Look, we've all seen this. We saw it as recently as yesterday. Somebody in the White House has authority to press the button and stop the president, cut off the president's speaking ability and sound," Risch said on Tuesday.
Advertisement - story continues below
He asked, "Who is that person?"
Blinken let out a chuckle and said, "I think anyone who knows the president, including members of this committee, knows that he speaks very clearly and very deliberately for himself. No one else does."
Risch retorted, "Are you saying that there's no one in the White House that can cut him off? Because yesterday that happened, and it's happened a number of times before that. It's been widely reported that somebody has the ability to push the button and cut off his sound and stop him from speaking."
Blinken maintained that there is "no such person" and reiterated that Biden speaks for himself and "makes all the strategic decisions."
Advertisement - story continues below
Watch the video below:
Sen. Jim Risch presses Secretary of State Blinken about who in the White House has authority to "press the button" and cut off President Biden's mic.

"There is no such person. Again, the president speaks for himself." pic.twitter.com/q5EdBQ6nEO

— CBS News (@CBSNews) September 14, 2021
However, the Idado senator asked if Blinken is "unaware that this is actually happening," as he noted reports that the video of Biden was cut off during an event while he started to ask a question.
He asked, "Are you telling this committee that this does not happen? That there's no one in the White House who pushes the button and cuts him off in mid-sentence?"
"That's correct," Blinken responded.
Advertisement - story continues below
Risch paused for a few seconds, leaning back in his chair, then asked, "So this didn't happen yesterday nor on the other occasions where the media showed the American people that his sentence was cut off in mid-sentence. Are you saying that didn't happen?"
However, Blinken said he did not know what Risch was referring to.
Truth and Accuracy
We are committed to truth and accuracy in all of our journalism. Read our editorial standards.
Comment Down Below
Conversation