Dem Senator Fires Back After Sanders, Omar Criticize Reported COVID Relief Bill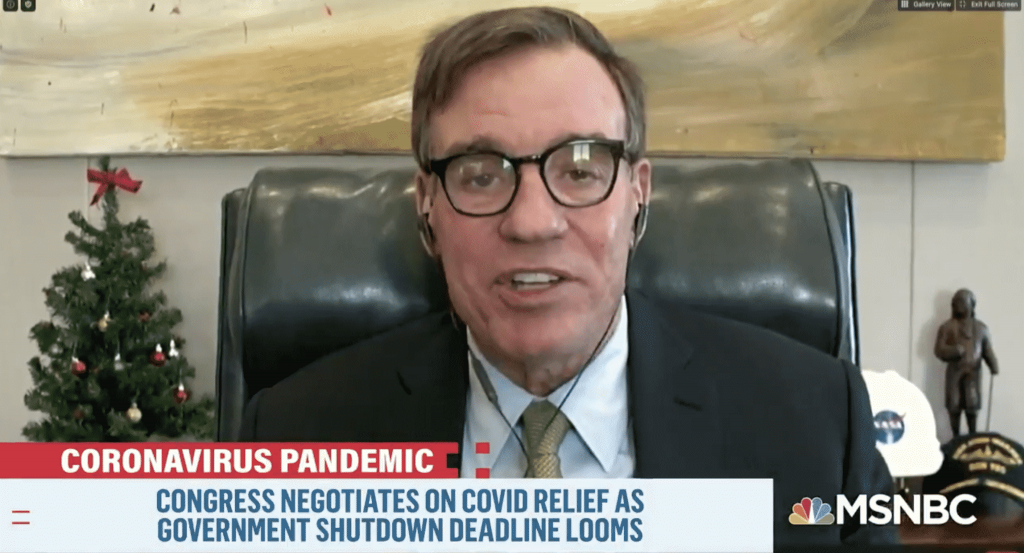 Sen. Mark Warner (D-Va.) is responding to criticism of a proposed $900 billion COVID-19 relief package coming from progressive members of his own party. 
During an interview on MSNBC on Thursday, Warner, who has been part of the negotiations on the package, reacted to criticism from Sen. Bernie Sanders (I-Vt.) and Rep. Ilhan Omar (D-Minn.), who argued the bill was too small.
"These are folks who've never negotiated any deal, that I think, has ever been successful," Warner said. "We're dealing with a Senate that is still unfortunately controlled by the Republicans. We still have Donald Trump as president — controlling two-thirds, in a sense, of the federal government, the executive, and the Senate."
He continued, "The alternative would have been to have people get kicked off of unemployment, get kicked out of their apartments, not get the kind of food assistance that's needed."
"We put together a $900 billion package, bigger than even the TARP package was after 2008, second only in size to the original CARES package, that covers every one of the key Democratic areas […] Where I differ with some of these so-called progressives, they were willing to take away money or accept taking money away from the unemployed to give out in stimulus checks with Donald Trump's name on it to some folks who frankly have not suffered any economic harm."
Finally, he added, "I think that's misguided, and I don't think candidly very progressive when we should be targeting this assistance whether it's individuals, or businesses, or childcare centers, those folks most in need.
Watch the video below:
.@MarkWarner on criticism from @BernieSanders & @IlhanMN that Democrats gave up too much in covid relief talks: "These are folks who've never negotiated any deal that I think has ever been successful." pic.twitter.com/gPruWbzNzs

— MSNBC Live with Hallie Jackson (@HallieOnMSNBC) December 17, 2020
The proposed bill would reportedly provide funding for vaccine distribution, schools, small businesses, assistance to renters, and an extension of enhanced unemployment benefits.
It could also send out $600-$700 stimulus checks.
However, Sanders said he does not believe the package has been well negotiated. Instead, he argued it is "a much smaller amount than the country needs in this moment of economic desperation."
And Omar claimed it is "really quite shameful that we find ourselves negotiating a deal with such a small amount of money."