Commentary
Sick: WaPo Brings Up Jan. 6, Election Challenge in Article About GOP Congresswoman's Death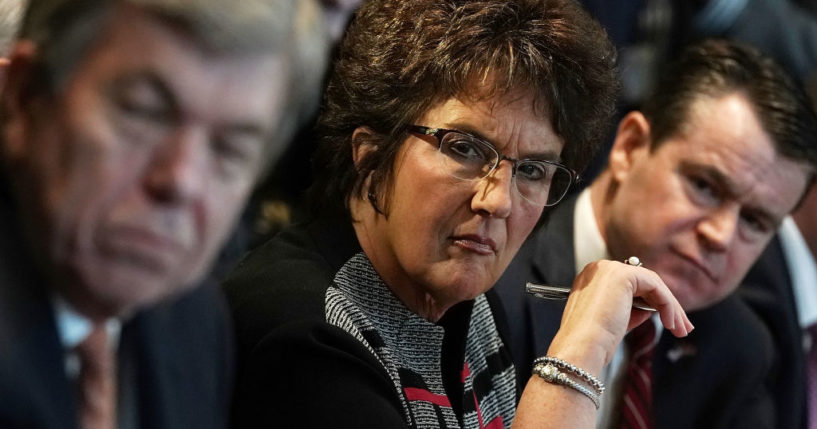 The media's obsession with former President Donald Trump and the Jan. 6 riot at the U.S. Capitol has hit a new low.
On Wednesday, Rep. Jackie Walorski (R-Ind.), two of her staffers, and a driver of another car all died in a tragic car accident in her home state.
Erica Finke, a reporter for WSBT, tweeted on Wednesday, "U.S. Congresswoman Jackie Walorski (R-Indiana) has been killed in a crash that happened at 12:32 P.M. in Elkhart County on S.R. 19 south of S.R. 119."
Advertisement - story continues below
"Walorski, Zachary Potts with the St. Joseph County Republican Party, and Walorski's comm. director Emma Thompson all passed away," she continued.
A northbound passenger car traveled left of center and collided head on with a southbound vehicle.

Walorski, Zachary Potts with the St. Joseph County Republican Party, and Walorski's comm. director Emma Thompson all passed away.

— Erica Finke WSBT (@EricaFinkeTV) August 3, 2022
In a statement, the members of Indiana's Congressional delegation said, "Staying true to her Hoosier values of hard work, determination, and public service, Representative Jackie Walorski fought each and every day for the lives and livelihoods of Hoosiers in Indiana's 2nd Congressional District."
"She was a great friend and colleague to many of us in Congress and her untimely death is a tremendous loss for the House of Representatives and the state of Indiana. Our thoughts and prayers are with her staff, her family, and the family and loved ones of the staff members, Emma Thompson and Zachery Potts, who also lost their lives today," it added.
Advertisement - story continues below
The Indiana Delegation issued the below statement on the tragic death of @RepWalorski and her staff Emma Thomson and Zachery Potts. https://t.co/r0RvtU5zVx
 @SenToddYoung, @SenatorBraun, @RepAndreCarson, @RepJimBanks, @RepTrey, @RepJimBaird, @RepGregPence, @RepMrvan, @RepSpartz pic.twitter.com/5z9IT3Vn0W

— Larry Bucshon, MD (@RepLarryBucshon) August 4, 2022
House Speaker Nancy Pelosi (D-Calif.) ordered flags to be flown at half-staff at the U.S. Capitol in honor of Walorski and noted she was "admired by colleagues on both sides of the aisle for her personal kindness."
President Joe Biden said he and First Lady Jill Biden were "shocked and deeply saddened" by Walorski's death.
A news article published in The Washington Post about the Congresswoman's death contained various statements about her passing and some background information about her.
But it did not stop at that.
Advertisement - story continues below
The article went on to note that Walorski "opposed the Women's Health Protection Act and the Ensuring Access to Abortion Act, calling Democrats' stance on abortion 'dangerous' and 'extreme.'"
And then there was this little gem:
"A Donald Trump supporter, Walorski voted against impeaching the president in 2021 for his role in the Jan. 6 attack on the Capitol, which resulted in the deaths of one police officer and four others and injured more than 100 law enforcement officers. She also voted against confirming Democrat Joe Biden's victories in Arizona and Pennsylvania in the 2020 presidential election."
Are you serious? Four people died yesterday in a tragic accident, and the Post believes that hours after the crash, it would be a great time to bring up Jan. 6?
Advertisement - story continues below
You might expect that in an obituary where what can be seen as the good and bad parts of someone are shared, but not a news story about someone's death.
Perhaps some people believe that the notion of showing respect and trying to be sensitive when a person they disagree with dies is outdated.
But the idea that we should be branding people with a vote — which it should be noted had no chance of achieving its goal — right after they died and while people are grieving and digesting the news is absolutely sick.
There are some times in life when people should be able to put politics aside, and the immediate hours after someone's death is one of those times.
Truth and Accuracy
We are committed to truth and accuracy in all of our journalism. Read our editorial standards.
Comment Down Below
Conversation