News
Question Answered: Sinema Reveals Her Stance on Democrats' Climate and Tax Bill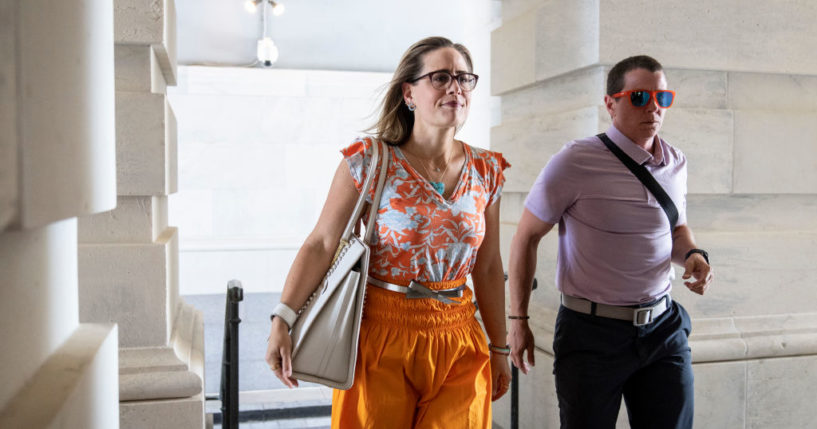 Once Sen. Joe Manchin (D-W.Va.) announced that he had reached a deal on Democrats' climate, health, and tax bill, practically all eyes turned to the other key vote in the chamber that could make or break the package's passage: Sen. Kyrsten Sinema (D-Ariz.).
For days after Manchin's agreement on the Inflation Reduction Act was revealed, Sinema stayed quiet about whether she would support the bill, which requires all 50 Democrats in the Senate to vote for it to pass.
But on Thursday, the question of whether the Arizona senator would sink part of President Joe Biden's domestic agenda months before the midterm elections was answered.
Advertisement - story continues below
The package still needs to be reviewed by the Senate Parliamentarian to ensure that it is eligible to be passed using the budget reconciliation process — which is immune from the filibuster. However, in a statement, Sinema said, "Subject to the Parliamentarian's review, I'll move forward."
🚨 SINEMA signs off on Inflation Reduction Act after the carried interest loophole provision was taken out: pic.twitter.com/Qa7BUtZ28M

— Frank Thorp V (@frankthorp) August 5, 2022
According to the Committee for a Responsible Federal Budget, the bill would reduce the federal deficit by $305 billion through 2031.
It would also implement a 15% minimum corporate tax, extend subsidies for medical insurance premiums under the Affordable Care Act, invest $80 billion in the Internal Revenue Service over the next decade, and allow Medicare to negotiate the prices of certain prescription drugs.
Advertisement - story continues below
Additionally, it includes investments in green energy production, as well as tax credits to help encourage limiting carbon emissions.
The package also initially was set to close the carried interest loophole, which, as Forbes explains, "enables investment and private equity fund managers to pay a lower rate on their taxes."
Do you like this package?
However, Sinema said on Thursday that she negotiated the removal of that provision.
CNN notes that the carried interest provision was projected to raise $14 billion in revenue.
"[Sinema] also suggested that she won changes to Democrats' plans to pare back how companies can deduct depreciated assets from their taxes – a key demand by manufacturers that had lobbied Sinema over their concerns this week," it added.
Advertisement - story continues below
To offset the changes, the bill will now include a 1% excise tax on stock buybacks, which is estimated to raise $73 billion.
On July 28, President Joe Biden voiced support for the bill as he said, "Look, this bill is far from perfect.  It's a compromise. But it's often how progress is made: by compromises."
"And the fact is that my message to Congress is this: This is the strongest bill you can pass to lower inflation, cut the deficit, reduce healthcare costs, tackle the climate crisis, and promote energy security, all the time while reducing the burdens facing working-class and middle-class families," he added.
Senate Majority Leader Chuck Schumer (D-N.Y.) scheduled a procedural vote to begin debate on the bill on Saturday.
Advertisement - story continues below
Schumer signaled that the process of passing the bill could be lengthy as he predicted there will be "some late nights and extended debates here on the floor."
Truth and Accuracy
We are committed to truth and accuracy in all of our journalism. Read our editorial standards.
Comment Down Below
Conversation