News
'SNL' Mocks Elon Musk's Offer to Buy Twitter: 'That's How Badly White Guys Want to Use the N-Word'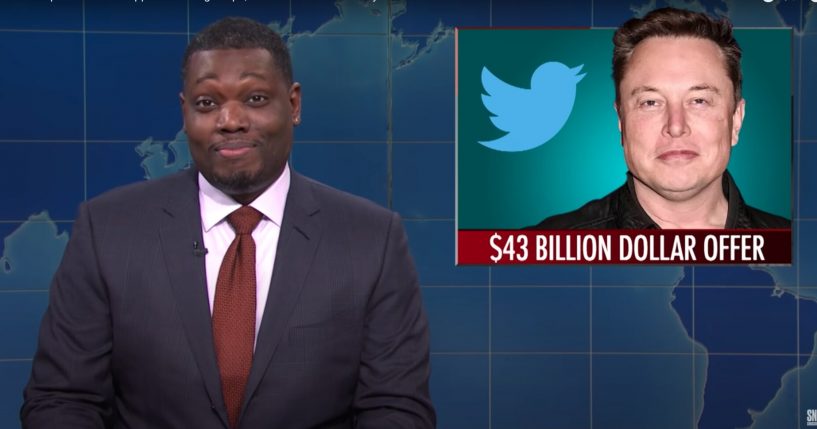 Saturday Night Live (SNL) took aim at Tesla CEO Elon Musk for offering to buy Twitter due to his concerns about its content moderation policies.
During a segment of SNL's "Weekend Update," Michael Che noted, "Elon Musk offered to buy Twitter for over $40 billion so he can loosen its free speech rules."
"That's how badly white guys want to use the N-word," he added.
Advertisement - story continues below
Colin Jost chimed in, "I don't understand why Elon even wants to own Twitter. It used to be something that seemed important and even fun, and now you look at it, and it's confusing and depressing. It's the [Rudy Giuliani] of apps."
"Elon built electric cars. He's going to Mars. Why is he even involving himself with Twitter?" he went on.
Finally, Jost added, "It would be like if the Prince of England gave it all up just to marry an actor from 'Suits.' Plus, I understand Twitter is not even profitable anymore. It just feels like a bad business decision. And I say that as someone who bought a Staten Island Ferry with [Pete Davidson]."
Watch the video below:
Advertisement - story continues below
On Thursday morning, Musk revealed that he made an offer to buy Twitter.
In a letter to the chairman of the board of Twitter, he wrote, "I invested in Twitter as I believe in its potential to be the platform for free speech around the globe, and I believe free speech is a societal imperative for a functioning democracy."
"However, since making my investment I now realize the company will neither thrive nor serve this societal imperative in its current form. Twitter needs to be transformed as a private company," he went on.
Musk added, "Twitter has extraordinary potential.  I will unlock it."
Advertisement - story continues below
However, on Friday, Twitter's board adopted a so-called "poison pill" in an effort to block Musk from buying the company.
As CBS News reports, "The plan will go into effect if any person or group buys at least 15% of Twitter's stock in a purchase that is not approved by its board. "
"If triggered by such a purchase, the plan would give other shareholders the right to buy additional shares of Twitter's stock at a discount, which would then dilute the value of Musk's shares. That would effectively reduce the control that Musk could gain through share purchases," it added.
Still, the plan would not prevent the board from accepting an acquisition deal if it "is in the best interests of Twitter and its shareholders."
Advertisement - story continues below
Musk told the TED22 conference last week that he has a "plan B" if his offer to accept Twitter was not accepted.
Truth and Accuracy
We are committed to truth and accuracy in all of our journalism. Read our editorial standards.
Comment Down Below
Conversation