News
'Socialism Wins': AOC-Backed Candidate Celebrates New York Primary Win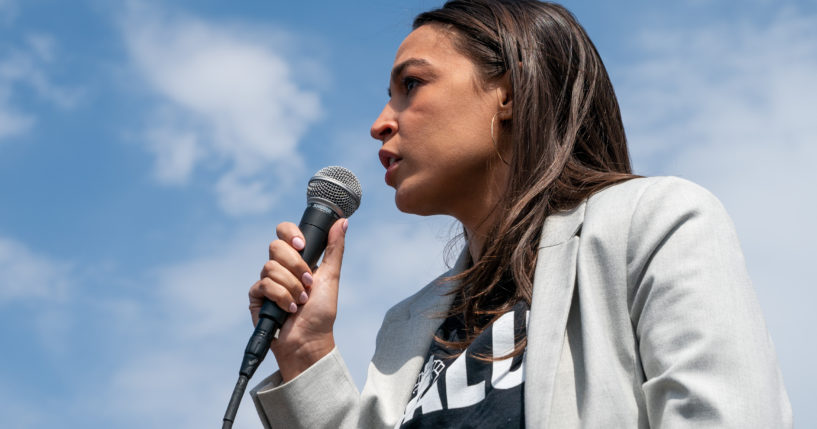 New York State Senate Candidate Kristen Gonzalez celebrated her primary win by proclaiming that "socialism wins," during her victory party.
Gonzalez is a former tech worker-turned politician whose campaign to represent New York's District 59 received backing from by Rep. Alexandria Ocasio-Cortez (D-NY)," according to Fox News.
The state senate candidate told supporters Tuesday "today we really proved that socialism wins," after finding out she secured the Democrat nomination.
Advertisement - story continues below
Gonzalez spoke to her followers through cheers, saying "We are not going anywhere, and we will not stop until we see a socialist slate across this city!"
New York State Senate Democrat primary winner Kristen Gonzalez:

"We really proved that socialism wins! We are not going anywhere, and we will not stop until we see a socialist slate across this city!" pic.twitter.com/kWR9tUvjEb

— RNC Research (@RNCResearch) August 24, 2022
Gonzalez's campaign website highlights some of the key issues she is running on, including pushing for a "green New York," as well as "healthcare and reproductive justice for all."
Her far-left platform also includes promises to "cancel student debt," find "free healthcare," and get "aggressive action on climate." The candidate also promises "Good Cause rent protections," that will keep landlords from evicting tenants to "make sure our neighborhoods stay working-class and diverse."
Advertisement - story continues below
Additionally, the candidate asserts, "We need to tax the rich to finally invest in public housing, and build hundreds of thousands of new, affordable, and green homes to solve the housing crisis and start building a Green New York for all."
Gonzalez, a former Obama campaign staffer, went on to say in a statement about her platform, "Trans and queer right[s] are under attack, with our Black and brown siblings disproportionately affected."
"These attacks overwhelmingly focus on youth and schools, but they are only the beginning of a larger attack on queer identities and bodily autonomy," the socialist candidate's "Queer Liberation Platform" reads.
The candidate does have a plan, however, saying that "In order to fully acheive [sic] queer liberation, we must directly address the attacks on queer and trans rights, along with ensuring our housing, healthcare, and education system are intersectional and provide dignity for all."
Truth and Accuracy
We are committed to truth and accuracy in all of our journalism. Read our editorial standards.
Comment Down Below
Conversation