News
Southwest CEO Smacks Down Speculation Opposition to Vaccine Mandates Caused Mass Cancellations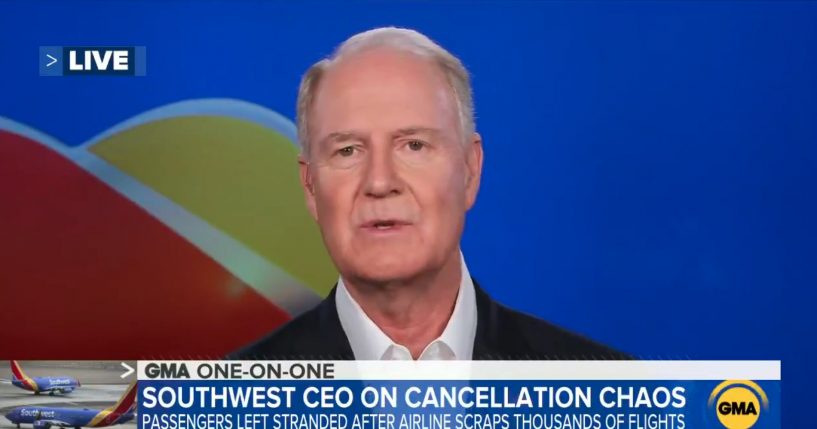 Southwest Airlines CEO Gary Kelly says there is "no evidence" that opposition to COVID-19 vaccine mandates caused the cancellation of over 2,000 flights over the weekend.
During an interview on ABC's "Good Morning America" on Tuesday, Kelly said a "series of FAA Florida delay programs on Friday" was behind the disruptions.
He explained, "About half of our airplanes touch the state of Florida. Orlando, as an example, had a ground stop for seven hours. So it just put the airline way behind on Friday. So there were no [air traffic control] issues over the weekend. That's absolutely true. But I think any industry expert knows that it takes several days, if you have that large of an impact on the operations, to get the airplanes where they need to be and then to match the crews up with that."
Advertisement - story continues below
Host George Stephanopolous noted that Spirit Airlines also experienced issues, but he added, "It seems like Southwest really bore the brunt of this."
"Why Southwest?" he asked.
Kelly responded, "I think it's what I said. I think over half of our fleet touches the state of Florida. We have a linear route system. We're just different. And, you know, I can't really speak to what their issues were or weren't. Everyone was impacted on Friday, and everyone was impacted in a very big way."
When Stephanopoulos noted that there was speculation that opposition to vaccine mandates was behind the cancellations, Kelly said, "There's just no evidence of that."
Advertisement - story continues below
"The vaccine mandate obviously is controversial, and it's not anything that I wish for our company. This is a government mandate, it's a presidential order, and we're doing our best to comply with that according to the deadlines that have been set," he added.
Watch the video below:
"I want to apologize to all of our customers. This is not what we want but unfortunately it just takes a couple of days to get things back on track."

Southwest Airlines CEO Gary Kelly speaks out on cancellation chaos. https://t.co/bwAoBRTkWX pic.twitter.com/UCuh4vr3HR

— Good Morning America (@GMA) October 12, 2021
From Saturday to Monday, Southwest canceled over 2,000 flights and had delays which it said was due to bad weather and air traffic control issues.
However, a spokesperson for the Federal Aviation Administration (FAA) told Fox Business, "No FAA air traffic staffing shortages have been reported since Friday. Flight delays and cancellations occurred for a few hours Friday afternoon due to widespread severe weather, military training, and limited staffing in one area of the Jacksonville Air Route Traffic Control Center."
Advertisement - story continues below
The mass cancellations sparked speculation that Southwest's employees were participating in a "sick out" to protest the company's decision to comply with COVID-19 vaccine requirements.
Sen. Ted Cruz (R-Texas) even joined in the speculation, tweeting, "Joe Biden's illegal vaccine mandate at work!"
"Suddenly, we're short on pilots [and] air traffic controllers," he added.
However, Southwest's pilot's union said in a press release, "We can say with confidence that our pilots are not participating in any official or unofficial job actions."
Advertisement - story continues below
"Our pilots will continue to overcome SWA management's poor planning, as well as any external operational challenges," it added.
Truth and Accuracy
We are committed to truth and accuracy in all of our journalism. Read our editorial standards.
Conversation