News
'Squad' Member Defends Spending 70k on Private Security While Pushing To Defund Police Departments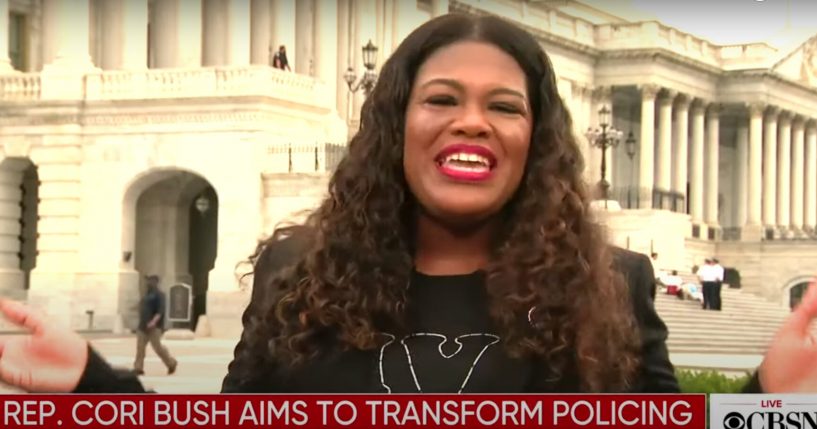 Rep. Cori Bush (D-Mo.), a member of the group of progressive lawmakers known as the 'Squad,' is willing to spend up to $200,000 on private security for herself, but argues that police departments across the country should see their budgets reduced.
During an interview with CBS News on Wednesday, Bush was asked about campaign records that show she spent roughly $70,000 on private security and allegations of hypocrisy for calling for police departments' budgets to be reduced.
"They would rather I die?" she responded. "You would rather me die? Is that what you want to see? You want to see me die? You know, because that could be the alternative. So either I spend $70,000 on private security over the last few months…or I could possibly have a death attempt on my life."
Advertisement - story continues below
The freshman Congresswoman continued, "I have private security because my body is worth being on this planet right now. I have private security, because they, the white supremacist, racist narrative that they drive into this country, the fact that they don't care that this Black woman…who puts her life on the line, they don't care that I could be taken out of here."
Watch the video below:
"I'm going to make sure I have security because I know I have had attempts on my life. And I have too much work to do. There are too many people that need help right now for me to allow that," Bush said.
Advertisement - story continues below
She added
"So if I end up spending 200,000, if I spend ten more dollars on it, you know what? I get to be here to do the work. So suck it up. And defunding the police has to happen, we need to defund the police and put that money into social safety nets because we're trying to save lives."
Should police departments be defunded?
Bush has faced allegations of hypocrisy for spending thousands of dollars on private security while supporting the "defund the police" movement.
The Congresswoman supports redistributing funds from police department budgets to other social services.
Truth and Accuracy
We are committed to truth and accuracy in all of our journalism. Read our editorial standards.
Conversation