News
Reporter Suggests People 'Forgo' Turkey for Thanksgiving to 'Cut Costs' As Inflation Hits 30-Year High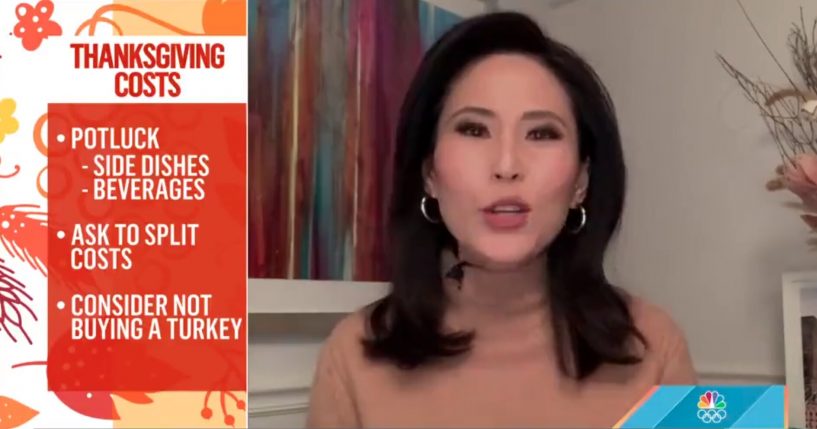 As the rate of consumer price increases has reached a 30-year high, one reporter is offering an idea of how Americans can cut costs for their Thanksgiving dinner.
On Monday, NBC News' Kirsten Welker said, "This morning with inflation on the rise, prices are going up on everything from your thanksgiving meal to your gifts for the holidays."
The network's Vicky Nguyen noted, "Inflation is up, 6.2% since last October, that's real money."
Advertisement - story continues below
"This is the year you want to set a budget for your meal," she added.
She went on to share ideas such as using coupons, making meals from scratch, or even skipping buying a turkey for the Thanksgiving dinner to save money.
"While we are on the topic of something that could be controversial, perhaps forego the turkey. Bear with me. I know that is the staple of the Thanksgiving meal," Nguyen said.
She added, "Some people think turkey is overrated so – it tends to be the most expensive thing on the table. Maybe you do an Italian feast instead. And I will say this: If you tell everyone you're having Thanksgiving without turkey? Some guests may drop off the list, and that's a way to save money, too."
Advertisement - story continues below
Watch the video below:
NBC'S guide on how to deal with inflation this Thanksgiving:

"If you tell everyone you're having a Thanksgiving without turkey, some guests may drop off the list—and that's a way to cut costs, too." pic.twitter.com/BIC6uyyxg4

— The First (@TheFirstonTV) November 22, 2021
According to Fox News, "The American Farm Bureau estimates a Thanksgiving feast for 10, complete with sweet potatoes, rolls, a vegetable tray and a pie with whipped cream, will cost $53.31 this year, up 14% from a year ago. It's an unusual spike."
The Agriculture Department reports that the average wholesale price of an eight to 16 pound frozen turkey was $1.35 per pound, up 21% from last year.
According to data from the Labor Department, the consumer-price index, a measure of the prices consumers pay for goods and services, rose at its fastest annual pace since 1990.
Advertisement - story continues below
In the past 12 months, prices rose 6.2%, and October marked the fifth month in a row that inflation was over 5%.
Without food or energy prices, the consumer-price index rose 4.6%, which was the highest rate since 1991.
CNN reports, "The overall price index rose 0.9% in October alone, adjusted for seasonal swings, significantly more than the 0.6% economists had predicted, and overshadowing the somewhat more tepid 0.4% increase from September."
Truth and Accuracy
We are committed to truth and accuracy in all of our journalism. Read our editorial standards.
Conversation