News
Superbowl Winner and Wife Introduce Baby Boy Born After the Big Game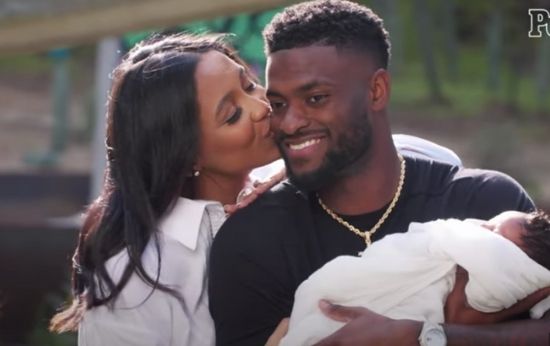 L.A. Rams wide receiver Van Jefferson and his wife Samaria Jefferson are introducing their new baby boy and he has a name fit for a winner.
On Superbowl night, Samaria Jefferson was on the stands cheering on her husband while in labor.
"I did not want to miss the game for anything. I watched him play since high school, college and now the NFL, so I was dedicated to go," Samaria Jefferson told People.
Advertisement - story continues below
She remembers walking up to the stadium and "having to stop every five minutes from the pain."
By halftime, the pain from the contractions escalated, bringing Samaria Jefferson to tears.
"I'm crying at this point. I was like, 'I can't take it anymore,'" she said.
The medical staff on-site "took Samaria out on a stretcher and transported her to a local hospital, where she declined to be admitted and instead took an Uber to her birthing center," according to People.
Advertisement - story continues below
Van Jefferson said he didn't find out that his wife was in labor until after the Rams beat the Bengals in a final score of 23-20.
Van Jefferson told People "I was on the field and this lady was like, 'Your wife is going into labor.' I was like, 'Are we serious right now?' "
"We hauled tail. I'm in the car going, 'We need to go a little bit faster. We need to get there!'"
Samaria Jefferson recalls having to call her husband on Facetime as she was about to give birth to their son named Champ.
Advertisement - story continues below
"'I can't wait anymore,'" she told him.
James 1:17 says, "Every good and perfect gift is from above."
"Just to get there and get that skin-to-skin contact was such a special moment for me," Van Jefferson reflected.
He added, "It's been a crazy week. To have a baby on Super Bowl day … and win the Super Bowl too is a blessing."
Advertisement - story continues below
"It's been two wins so we're excited."
Samaria and Van Jefferson are already parents to 5-year-old Bella and Van also has a 4-year-old son named Vanchi.
Truth and Accuracy
We are committed to truth and accuracy in all of our journalism. Read our editorial standards.
Comment Down Below
Conversation