News
Supreme Court Justice Encourages Children to Make the World a Better Place in Her New Book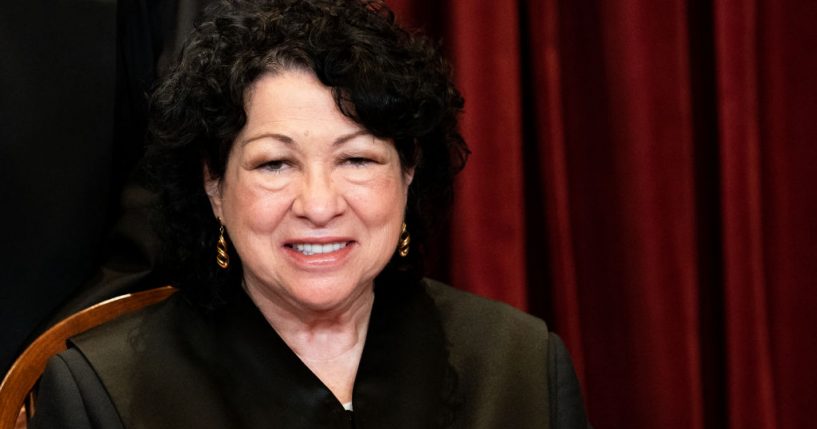 Supreme Court Justice Sonia Sotomayor is encouraging kids to ask how they can help make the world a better place in her new children's book.
In "Just Help! How to build a better world," children are helping by sending packages to uplift American soldiers overseas, recycling different items, cleaning up their environment, donating toys to comfort sick children in hospitals, and encouraging people to go out and vote. She also takes readers back to when she was a child, where her mother proceeds to ask her how she could help that day.
Sotomayor tells readers that she remembers throughout her childhood seeing her mother helping others, both in her job as a nurse and in her community where she lived in the Bronx, New York.
Advertisement - story continues below
When it comes to helping, Sotomayor said in a phone interview with the Associated Press, "I want kids to do this intentionally, to think that this is a requirement of living almost, that trying to figure out how they will make a better world should be a part of the charge of their living."
Supreme Court Justice Sonia Sotomayor joins @SavannahGuthrie to talk about "Just Help," her new children's book inspired by her late mother's focus on improving the world through public service. pic.twitter.com/KCQAKfbXcT

— TODAY (@TODAYshow) January 25, 2022
Sotomayor also said she wants children to reach beyond just helping their families and friends, but also to "think about how to help neighbors and how to help our community, and that it takes active thought and active action to change the world."
Unfortunately, Sotomayor's mother died last year, but is now the inspiration for her next book, "Just Shine." It pays tribute to a woman who "let others shine."
Advertisement - story continues below
"That is how she approached the world," she said.
The justice's mother also let her own light shine through helping others, which is exactly what Jesus tells us to do in Mathew 5:16. He says, "In the same way, let your light shine before others, that they may see your good deeds and glorify your Father in heaven." When we take the time to serve and help others, we are glorifying God in our actions.
Sotomayor has also written other children's books, which include "Turning Pages: My Life Story" and "Just Ask! Be Different, Be Brave, Be You." Each book talks about the challenges that children with autism, dyslexia, and Down syndrome face.
Truth and Accuracy
We are committed to truth and accuracy in all of our journalism. Read our editorial standards.
Comment Down Below
Conversation