Susan Collins Defends Her Vote Against Barrett's Confirmation To the Supreme Court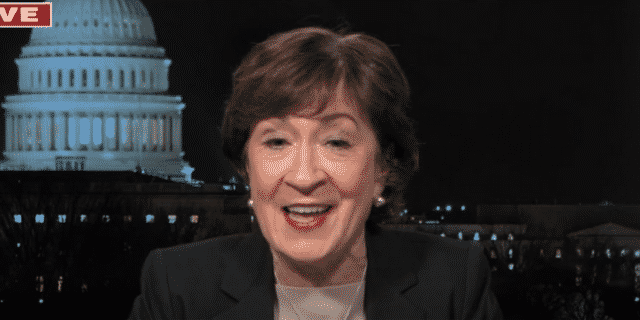 Sen. Susan Collins (R-Maine) is not backing down from her vote against Supreme Court Justice Amy Coney Barrett's confirmation to the highest court in the land.
Fox News' Martha MacCallum pressed Collins during Monday night's interview on if she had known she was ahead in the Maine Senate race if she would have supported Barrett. Collins defeated her Democratic challenger in a race where she was considered one of the most vulnerable incumbents.
However, Collins responded, "It would have made no difference to me in how I voted."
She added, "I said before Ruth Bader Ginsburg died that I felt that we had established a precedent four years ago and to be fair that we should not confirm a Supreme Court justice prior to the election, particularly when it was so close to the election."
The Maine senator noted that is not a comment on Barrett's "qualifications," "temperament," or "experience."
"It was a matter of fairness and playing by the same rules and being consistent."
Former President Barack Obama nominated Merrick Garland to the Supreme Court in 2016, but it was rejected by congressional Republicans and a federal judge dismissed a case to make Senate Republicans hold a vote on his nomination.
See Collins' comments below (starting at 5:45):
Ahead of Barrett's confirmation, Collins said that "in fairness" to the American people the vacant seat on the Supreme Court — left after Supreme Court Justice Ruth Bader Ginsburg died — should be made "by whoever is elected on November 3rd."
With a vote of 52-48, the Senate confirmed Barrett to the Supreme Court on Oct. 26, just 30 days after President Donald Trump nominated her. Her addition to the Supreme Court creates a 6-3 conservative majority.
Democratic Congress members pushed back on Barrett's nomination so close to the presidential election. However, Republicans pressed forward without bipartisan support. Following Barrett's confirmation, House Speaker Nancy Pelosi (D-Calif.) blasted Trump and Senate Republicans.
Pelosi said they "have committed an act of supreme desperation by jamming through a Supreme Court justice — all so that they can achieve their years-long campaign to destroy Americans' health care."
Senate Majority Leader Mitch McConnell (R-Ky.) defended Barrett's confirmation, saying, "If the shoe were on the other foot, they would have acted entirely within the Constitution and within the rules, just like we did."