Sen. Susan Collins Ducks Endorsement When Pressed by Opponent on Who She Supports in 2020 Election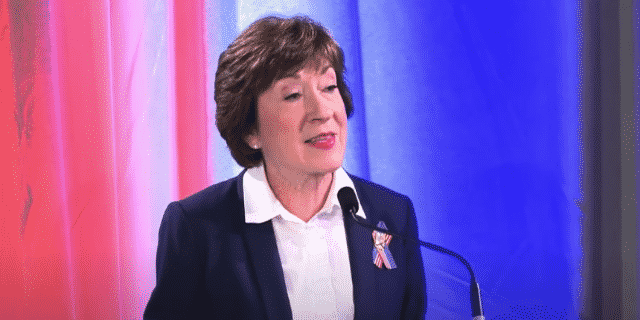 When it comes to an endorsement of President Donald Trump, Sen. Susan Collins (R-Maine) is declining to do so.
When challenged by Maine House Speaker Sara Gideon, her Democratic opponent in the 2020 Senate race, if she will endorse Trump in the 2020 presidential election, the senator sidestepped any such endorsement.
Gideon asked Collins during Friday night's Senate election debate "who she thinks should be leading this country."
"She has neglected to answer that question, and I'd like to give her the opportunity tonight," Gideon continued. "I think Joe Biden should be our leader."
However, Collins declined to answer, instead, saying it should be up to those in Maine to decide themselves who they support in the upcoming presidential election.
"Let me say this, I don't think that the people of Maine need my advice on whom to support for president," Collins responded, adding that "not a single person" during her bus tour asked her who should be the next president.
She then said that people in Maine instead told her "how grateful they were for the Paycheck Protection Program" to help their small businesses amid the coronavirus pandemic.
In another attempt during the debate to get Collins to say whether she supports Trump, Gideon said, "I think Joe Biden should be our leader to help us through with public health and rebuilding the economy." However, Collins refused to answer.
Watch the exchange below:
When pressed by @SaraGideon to announce publicly who she will support for President of the United States in tonight's US Senate debate in Maine, @SenatorCollins chickened out and declined to endorse Donald Trump. pic.twitter.com/IOhbvvhgIZ

— Alex Mohajer (@AlexMohajer) September 12, 2020
Collins wrote an op-ed in The Washington Post in August of 2016 expressing why she could not support Trump in the 2016 presidential election.
She wrote at the time:
"I will not be voting for Donald Trump for president. This is not a decision I make lightly, for I am a lifelong Republican. But Donald Trump does not reflect historical Republican values nor the inclusive approach to governing that is critical to healing the divisions in our country. […] My conclusion about Mr. Trump's unsuitability for office is based on his disregard for the precept of treating others with respect, an idea that should transcend politics."
During the first debate of the Senate election, Collins also touched on Trump's comments that surfaced recently where he previously told Bob Woodward during an interview that he downplayed the coronavirus so that he would not create panic.
Touching on that admission, Collins said, "The American people can take hard facts. And he had an obligation as President to be straightforward with them and to tell all that he has known."
She added, "I have said since the beginning that the President's performance has been uneven and that he should follow the advice of his excellent medical advisers."