Commentary
Swalwell Claims Biden 'Puts Many of Us to Shame With His Energy'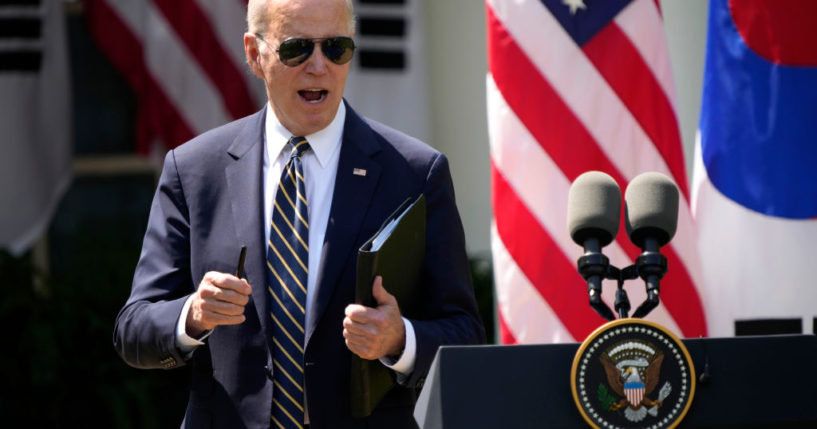 Congressional Democrats are brushing off concerns about President Joe Biden's age as he is officially running for re-election.
Speaking to Fox News Digital, Rep. Eric Swalwell (D-Calif.) said he is "absolutely not" concerned about the president's age.
"He puts many of us to shame with his energy," Swalwell claimed.
Advertisement - story continues below
Meanwhile, Sen. Tim Kaine (D-Va.) told the outlet, "As I age, I appreciate wisdom even more."
And Rep. Marc Veasey (D-Texas) said, "We've had many leaders his age that have done extraordinary things for America. And there's no reason why he can't accomplish just as much or more in his second term as he did in his first."
Watch the video below:
Democrat Rep. Eric Swalwell says Biden "puts many of us to shame with his energy" pic.twitter.com/tLmv0b6PGB

— RNC Research (@RNCResearch) April 27, 2023
Advertisement - story continues below
Former White House press secretary Jen Psaki made a comment similar to Swalwell's in 2021 when she told reporters, "I can tell you, having traveled with him a fair amount, sometimes he's hard to keep up with."
And in 2022, White House press secretary Karine Jean-Pierre brushed off a question about whether Biden's age would be a challenge for a re-election bid, saying, "That is not a question that we should be even asking."
"Oh, my gosh, he's the President of the United States, you know, I can't even keep up with him," she added.
Biden would be 86 at the end of a second term. And Republicans, even some Democratic voters, are raising concerns about his age.
While Congressional Democrats insisted the president is doing just fine, an Axios report published on Friday stated, "Biden's close advisers say he's mentally sharp. But even some of them concede his age has diminished his energy, significantly limiting his schedule."
Advertisement - story continues below
It added White House staffers are "amazed at Biden's stamina — often adding the caveat: 'for his age.'"
"Some White House officials say it's difficult to schedule public or private events with the president in the morning, in the evening, or on weekends: The vast majority of Biden's public events happen on weekdays, between 10 a.m. and 4 p.m.," the report added.
Additionally, Axios noted that so far in 2023, Biden has held four events before 10 a.m., and a dozen public events after 6 p.m., which were "mostly dinners and receptions with foreign leaders or fundraisers." And it added there have been "12 full weekends with no public events."
It's one thing to defend Biden and argue he has enough energy and is fit to do the job.
Advertisement - story continues below
But to claim an 80-year-old man is putting 40-year-olds to shame with how much energy he has is just hard to believe.
Truth and Accuracy
We are committed to truth and accuracy in all of our journalism. Read our editorial standards.
Comment Down Below
Conversation