Jake Tapper Calls out Biden for Coughing Into His Hand During Interview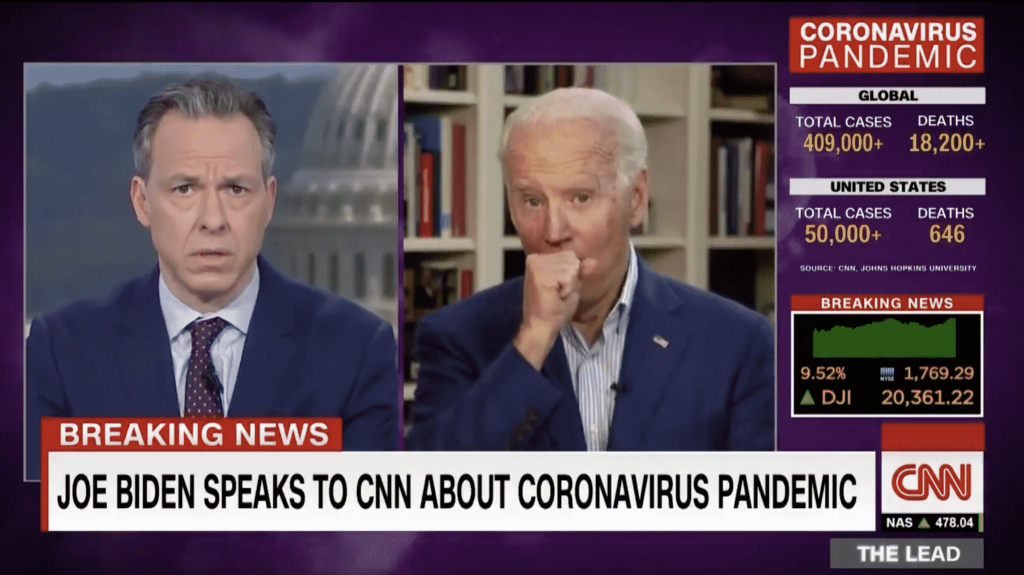 During an interview with CNN's Jake Tapper, former vice president Joe Biden was sharing how he has been following health experts' guidelines for staying healthy and protecting others during the coronavirus outbreak.
But, in the middle of the live interview on Tuesday, the presidential hopeful coughed into his hand. 
That prompted Tapper to instruct Biden that medical professionals say people should cough into their elbows, "You know, you're supposed to cough into your elbow."
"I don't know, sir. I learned that, actually, while covering your White House," he added.
Biden responded, "No, actually, that's true, but fortunately, I'm alone in my home. But that's OK. I agree you're right."
Watch the video below:
Presidential candidate Joe Biden shares how he's following the coronavirus protocol with his grandchildren.

"They sit out in the backyard and we sit on the porch and I bribe them with ice cream… but I'm not able to go down and hug them and kiss them which I usually do." pic.twitter.com/LhIUMFUZH3

— The Lead CNN (@TheLeadCNN) March 24, 2020
"It's kind of old school to do it into your hand. Do it into your elbow, you're supposed to do it," Tapper said.
Biden, who has hunkered down in his home and stopped campaign events, said that he has been following the advice of government officials to stay home amid the coronavirus outbreak.
However, he said that he has not been tested for the coronavirus, "I have not been tested for the coronavirus. I have had, thank God, no symptoms that I'm aware of."
"The good news is that, thank God, at least what I've been told by the doctor, I have no underlying conditions that would complicate my circumstance," he added.
Social media users have been quick to note other times Biden has broken with guidelines from health experts, such as when he coughed into his hand at the beginning of a Democratic debate with Sen. Bernie Sanders (I-Vt.).
Published in IJR