News
CNN's Jake Tapper Claims Greene's 'Behavior' Suggests She Is 'Somebody That Has Real Issues'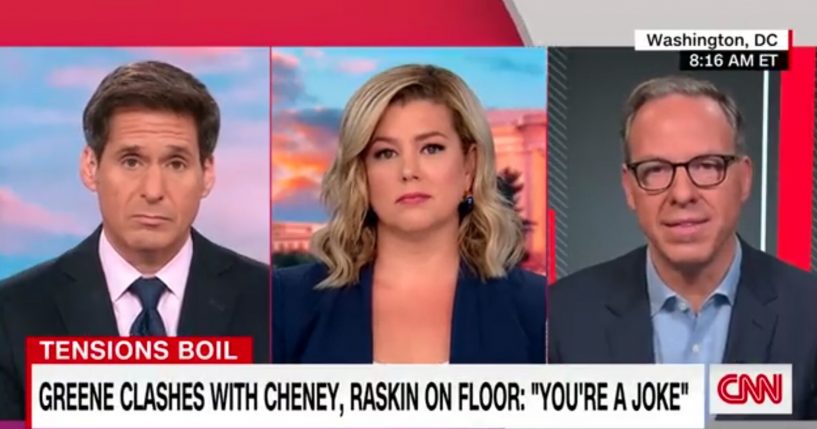 CNN's Chief Washington Correspondent Jake Tapper is suggesting that Rep. Marjorie Taylor Greene (R-Ga.) has "real issues."
During a Friday morning appearance on CNN's "New Day," Tapper said, "Look, I'm not a licensed psychologist. I don't know her. But her behavior suggests somebody that has real issues, that is not tethered to reality or basic standards of decent behavior."
He went on to note there have been incidents of Greene confronting people, such as David Hogg — a survivor of the Marjorie Stoneman Douglas High School shooting and a gun control activist. Last month, Greene got into a shouting match with Democratic lawmakers on the steps of the U.S. Capitol, as IJR reported.
Advertisement - story continues below
Tapper went on to describe the Georgia Congresswoman as "somebody who engages in all sorts of dog-whistle politics, conspiracy theories."
"In all honesty, Marjorie Taylor Greene on Facebook was suggesting that wealthy Jewish Americans were using laser technology to cause fires in California for some financial incentive. I mean, it is a deranged anti-semitic conspiracy theory," he added.
Watch the video below:
Rep. Marjorie Taylor Greene confronting Rep. Liz Cheney is more than "just a squabble" and represents the choice in front of Republicans, @jaketapper says. "A lot of them think there is some sort of third option. There isn't. … Which one are you going to follow?" pic.twitter.com/t7vubdBTQN

— New Day (@NewDay) October 22, 2021
Advertisement - story continues below
Tapper's comments come after Greene confronted Reps. Liz Cheney (R-Wyo.) and Jamie Raskin (D-Md.) over the House's decision to vote to hold Steve Bannon in contempt.
"This is a joke," Greene reportedly said before walking closer to Raskin and asking, "Why don't you care about the American people?"
He responded, "You represent the American people."
A video also showed Greene waving her hands at Cheney who reportedly called the Georgia Congresswoman a "joke" and referenced claims that she said Jewish space lasers had started fires in California.
"I never said that!" Greene shot back, adding, "You're done. You're a joke, Liz. Your party rejected you."
Advertisement - story continues below
A screenshot shows that a post on Greene's Facebook in November 2018 claimed people had seen "what looked like lasers or blue beams of light causing the fires" in California.
Truth and Accuracy
We are committed to truth and accuracy in all of our journalism. Read our editorial standards.
Comment Down Below
Conversation