Commentary
Target Execs Hold 'Emergency' Calls to Avoid Getting the Bud Light Treatment: Report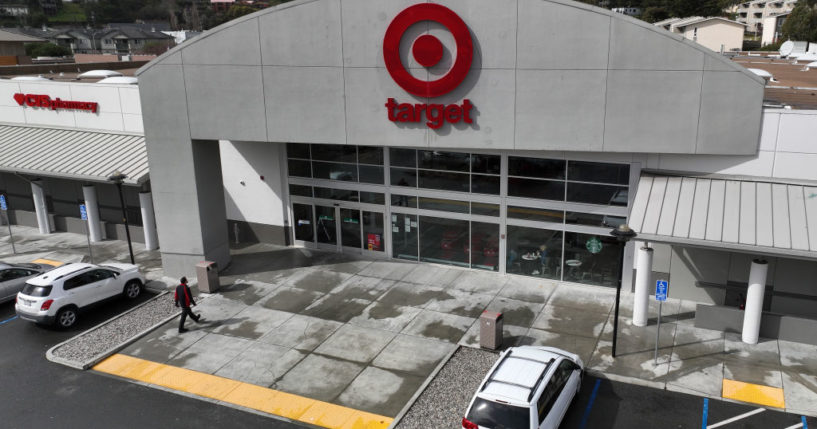 Facing mounting backlash over its Pride collection, retail giant Target is apparently desperately seeking to fend off a boycott situation.
Fox News reported on Tuesday that Target locations in mostly rural areas are relocating their annual Pride sections to avoid criticism from conservatives.
According to the outlet, "A Target insider said there were 'emergency' calls on Friday and some managers and district senior directors were told to tamp down the Pride sections immediately."
Advertisement - story continues below
A company insider said, "We were given 36 hours, told to take all of our Pride stuff, the entire section, and move it into a section that's a third the size. From the front of the store to the back of the store, you can't have anything on mannequins and no large signage."
"We call our customers 'guests,' there is outrage on their part. This year it is just exponentially more than any other year," the source added.
The insider then referenced the boycott movement targeted at Bud Light and suggested, "I think given the current situation with Bud Light, the company is terrified of a Bud Light situation." 
Bud Light produced a commemorative can for transgender influencer Dylan Mulvaney, who then shared a post about it on Instagram. After Mulvaney's post, conservatives expressed outrage and a boycott movement was launched in April. More than a month later, the beer brand is still seeing a domestic dip in sales. And it has reportedly offered to buy back unsold beer from wholesalers once it expires.
Advertisement - story continues below
Now, Target has come under fire after images of its "tuck friendly" LGBT-themed swimwear line with "extra crotch coverage" came to light.
At the same time, it was revealed the company is selling apparel from Abprallen, a London-based designer that sells some products accused of featuring Satanic imagery. One shirt sold by the designer states, "Satan Respects Pronouns." Meanwhile, a badge states, "Trans Witches For Abortion."
Do you plan to boycott Target?
Target is not selling those products. However, it is selling three products from Abprallen. One is a sweatshirt that reads, "Cure Transphobia, Not Trans People."
Why did @target hire a Satanist to design pieces for their recent "Pride" clothing line?

WTF👉🏽"Satan loves you and respects who you are… LGBTQIA+ people are so often referred to as being a product of Satan or going against God's will, so fine. We'll hang with Satan instead." pic.twitter.com/FLsNZNzHNa

— Scarlett Johnson (@scarlett4kids) May 20, 2023
The new products, combined with the company's history of selling "chest binders" — designed to flatten breasts to make someone appear more masculine — have led conservatives to call for a boycott of the retailer.
Advertisement - story continues below
Whether or not any significant boycott against Target will emerge is yet to be seen. It seems unlikely to be as big as the boycotts against Disney — which sparked conservatives' outrage in 2022 over its stance on LGBT issues — or Bud Light.
Those brands both cater to rather specific audiences. So it was easier for people who don't really care about Disney or do not like Bud Light to "join" the boycott. But Target is a store that kind of has everything for everyone.
And it will take more commitment to boycott the retail giant. It will take people committed enough to say the convenience of Target is not worth shopping at a store that has taken a side with the LGBT community. Still, there is a non-zero chance a boycott could emerge and hurt the company.
Target obviously thought it could get away with pleasing the LGBT community with its pride collection while avoiding backlash from conservatives. And it probably made its product choices before the impact of the Bud Light boycott was really known.
Advertisement - story continues below
Yet the company could have avoided the fret its executives are apparently feeling now if it chose to stick to just selling neutral products and not inundating customers with Pride messaging and clearly taking a side on the matter.
Companies can make public statements and sell products they believe advance a positive worldview. But likewise, customers can just as easily say, "We just want our paper towels and cute house decorations, leave us alone with your messaging or we won't shop here anymore." You can say it's not fair. You can say companies are facing incredible pressure on both sides.
But the reality is, if you start as a neutral company — one without a mission statement in favor of one side or the other — and then choose a side, the free market will kick in. And one way or another, once you cross the line of neutrality, you will likely pay a price. That's just how life is. As the saying goes, "Go woke, go broke."
So if a company does not want to face the pressure, their best bet is simply to say, "We sell [X] and that's all we do," and then stick to it.
Truth and Accuracy
We are committed to truth and accuracy in all of our journalism. Read our editorial standards.
Comment Down Below
Conversation