Commentary
Tennessee State Lawmakers Take Dramatic Action – Expel 2 Dems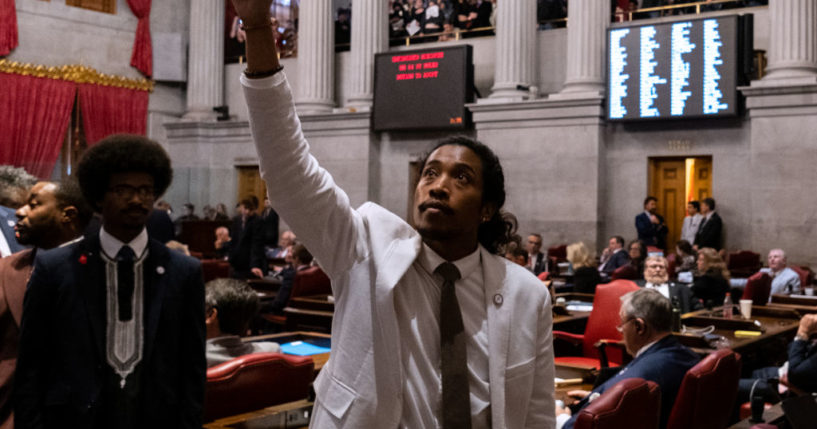 Republican Tennessee state lawmakers have taken the dramatic step of expelling two Democrats from the state House.
On Thursday, Republicans voted to expel Rep. Justin Jones and Justin Pearson from the chamber over their protest on the House floor a week ago over gun control measures.
The chamber successfully reached the two-thirds majority needed to expel Jones and Pearson.
Advertisement - story continues below
However, Republicans failed to garner the votes to expel a third Democrat, Gloria Johnson.
BREAKING: Tennessee House Republicans vote to expel the first of three Democratic lawmakers after they participated in a gun control protest at the state Capitol following the Nashville school shooting. https://t.co/XjUhpYlj9Z pic.twitter.com/FZHpqqNBou

— NBC News (@NBCNews) April 6, 2023
The resolution accuses Jones and Pearson of bringing "disorder and dishonor to the House of Representatives" and engaging in "disorderly behavior."
NBC News notes, "During the March 30 protest, the trio led supporters in chants calling for stricter gun safety measures after a mass shooting in a Nashville school that killed six people — including three 9-year-old children."
Advertisement - story continues below
"A bullhorn was used, in violation of rules for the House chamber, and the legislators were gathered in [an] area on the House floor without being recognized to speak. House leaders at the time called their actions "an insurrection," it added.
Conservative commentators watching videos of the protest on Twitter were also quick to attempt to label the moment an "insurrection" and liken it to the Jan. 6 riot at the U.S. Capitol.
Do you think the lawmakers should have been expelled?
However, there are some big differences. The protesters in Tennessee went through metal detectors and were not smashing windows and doors and battling with police to get into the building seeking to throw out the votes legally cast by millions of their fellow citizens.
This vote is just ridiculous and a blatant example of power politics. Republicans in Tennessee had the votes and the ability to expel two of the three lawmakers so they did.
It is a drastic action. To underscore how rare it is for members to be expelled in the state, it has only happened there three times before. Once in 1866 for "the contempt of the authority of this House," again in 1980 after a lawmaker accepted a bribe, and again in 2016 after a lawmaker was accused of sexual misconduct.
Advertisement - story continues below
Republicans in the legislature could have given these three a slap on the wrist and warned them against such actions before taking this explosive action.
The Democratic lawmakers could have been fined, censured, or sternly rebuked. This was an unnecessary and unwise dramatic escalation.
These lawmakers were duly elected by their constituents in Tennessee to represent them. And Republicans kicked them out because they were mad at a noisy, disruptive protest.
It certainly will not help fight back against allegations Republicans are racist. Jones and Pearson are both Black. Johnson is white. And already she is suggesting she survived the vote because of her race and age. Republicans could have defused some of that criticism by making sure they had all the votes to expel the three lawmakers before rushing forward.
Advertisement - story continues below
This incident sets a horrific precedent. Democrats, in states where they have supermajorities in state legislatures, might decide to start expelling Republicans for whatever violation or perceived violation they see.
Truth and Accuracy
We are committed to truth and accuracy in all of our journalism. Read our editorial standards.
Comment Down Below
Conversation