Commentary
Thanks Joe: Report Details How Much More You Are Paying for Halloween Candy This Year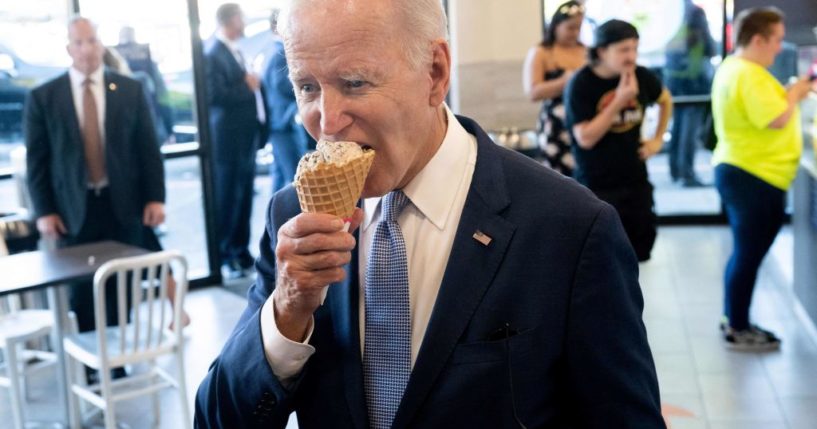 Over the past year, Americans have felt the pinch of inflation in several parts of their lives.
Gas prices are higher than a year ago, groceries cost more, services cost more, rental rates are up, and Americans paid more for their Thanksgiving dinners and Fourth of July barbeques.
And now Axios reports, "Soaring inflation and supply chain wrinkles have come for even the sweetest parts of life."
Advertisement - story continues below
The outlet included a graph tracking the percentage of price increases for Halloween candy based on the average retail price in the U.S.
Snickers are up 14% to over $7 in 2022, compared to 2021. Meanwhile, Reese's are up 13% to nearly $7.
But the biggest jump in candy occurred among Skittles which are up 42% to over $4, and Starburst, which is up 35% to $4.
While those are large percentage jumps, the outlet notes, "Relatively small price increases, on a dollar basis, look huge when measuring in percentage points."
Advertisement - story continues below
Additionally, the article cited the National Retail Foundation's Halloween Spending Survey, which found that planned household spending for Halloween dropped to $100.45 billion from $102.74 billion last year.
Skittles is up 42%: Here's how much the price of popular Halloween candy went up this year https://t.co/pazNjNaNOo

— Axios (@axios) October 21, 2022
Are you planning to spend less on Halloween this year?
This report comes after the September inflation report found prices rose 8.2% compared to the previous year — signaling that inflation is here to stay for at least a little bit longer.
It is true that inflation did not start solely because of President Joe Biden's policies — though they certainly have not helped.
Several economists agree that his $1.9 trillion American Rescue Plan helped fuel the price increases.
Advertisement - story continues below
And this is just another example of the problem Biden and the Democrats are facing.
While Halloween candy is not as expensive as other items, it is yet another part of life where Americans are probably going to the store and thinking, "Wasn't this cheaper not too long ago?"
White House National Economic Council Director Brian Deese told CNN last week that the administration is "making progress" in bringing prices down and "we just have to stay the course."
But it's hard to instill confidence when it feels like every part of life costs more. And that is especially the case when the administration officials keep claiming they are "making progress" on taming inflation, but the American people aren't really feeling that progress.
Advertisement - story continues below
Price increases are touching pretty much every part of life. And when the president tries to make it a big deal that they have not "spiked" even higher, it just comes off as out of touch.
Truth and Accuracy
We are committed to truth and accuracy in all of our journalism. Read our editorial standards.
Comment Down Below
Conversation