News
'The View' Accuses Marjorie Taylor Greene of Kicking Gun Control Activist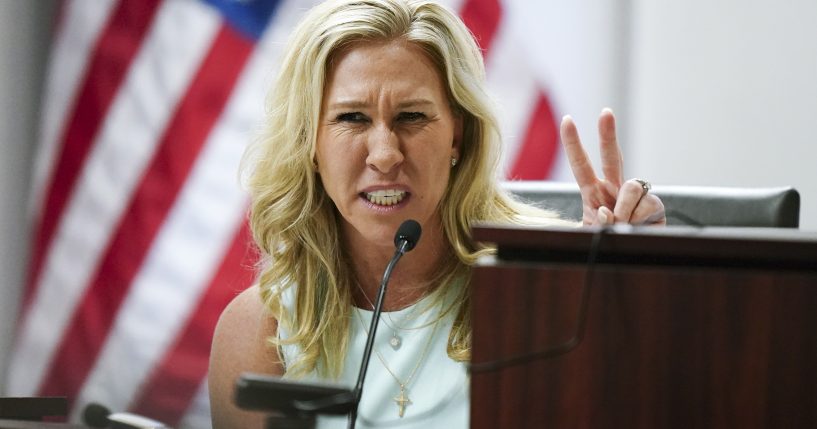 The co-hosts of ABC's "The View" are accusing Rep. Marjorie Taylor Greene (R-Ga.) of causing an activist to trip.
The Georgia Congresswoman was approached by several gun control activists on Thursday.
Video of the encounter showed one woman walk in front of Greene while asking her a question and then trip.
Advertisement - story continues below
Co-host Joy Behar noted the activist claimed she was kicked. The Congresswoman has denied kicking the activist.
One angle of the incident from the front shows the woman's stumble, but Greene is largely blocked from the camera's view.
Co-host Sunny Hostin argued that it looks like the activist merely tripped and admitted she is "the first to be able to call out Marjorie Taylor Greene because I think she's a horrid person."
However, she added, "I don't know if that's an intentional kick. I mean, she's like a CrossFit person, if she wants to kick somebody…"
Advertisement - story continues below
Watch the video below:
DID REP. TAYLOR GREENE KICK ACTIVIST? After a young activist claimed Rep. Marjorie Taylor Greene kicked her after confronting her about gun reform, #TheView panel weighs in. https://t.co/cVclFZQmjA pic.twitter.com/vFLtwy0X2H

— The View (@TheView) September 16, 2022
Do you think the activist tripped?
"She has a history of some kind of violence," Behar claimed.
A side view of the encounter appears to show Greene making a stomping motion or some kind of jerking motion.
Alyssa Farah-Griffin suggested that Greene may have stepped on the woman's heel "but intentionally."
Advertisement - story continues below
"Oh, she kicked her," Farah-Griffin said.
Hostin agreed that the side angle view "looks suspect."
Meanwhile, co-host Sara Haines said, "The fact that we're even having this conversation has shown us how far our standards of civility and decorum have gone."
She added that despite the fact that there were multiple activists cutting Greene off, laughing, and being "annoying," there were "a thousand ways I would have handled that differently than her."
Advertisement - story continues below
"And kicking someone was not even on my list," Haines added.
Truth and Accuracy
We are committed to truth and accuracy in all of our journalism. Read our editorial standards.
Comment Down Below
Conversation