Commentary
Time Magazine Gets Dragged for Accusing Hailey Bieber of 'Cultural Appropriation'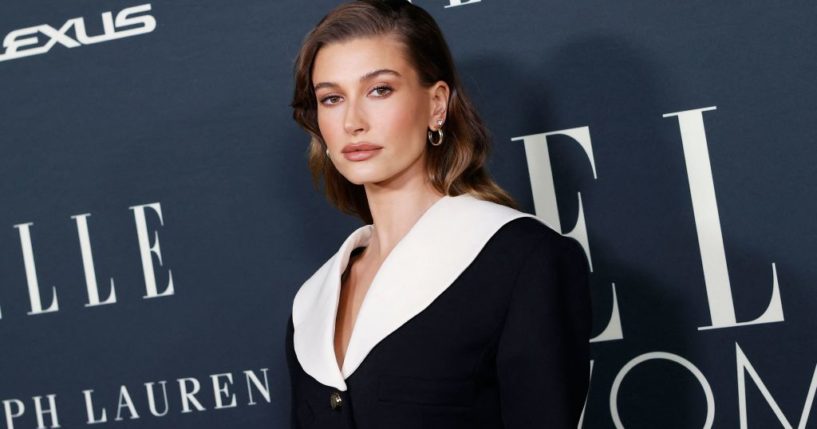 The United States has a lot on its plate to worry about: a hurricane barreling toward Florida, inflation, gas prices, and a possible government shutdown.
But Time Magazine is highlighting the real issue that every American should really care about: some model's lip liner.
Not a joke.
Advertisement - story continues below
The magazine published an article on Monday night titled, "Hailey Bieber's 'Brownie Glazed Lips' Look Is Yet Another Example of Cultural Appropriation in Beauty."
It explained that Hailey Bieber received criticism for a TikTok video she shared about her "brownie glazed lips," which the article says is "a makeup technique favored by Latinas and Black and brown women since the '90s."
It is important to point out how offensive and bigoted this article is by not using the proper term, Latinx.
"In Bieber's original video, which has gained 2.9 million views since she posted it on Aug. 23, the model wears brown lip liner with a clear glossy lip treatment from her beauty brand Rhode, captioning the post 'ready for all the fall things including brownie glazed lips,'" the article explains.
Advertisement - story continues below
Time notes that Bieber did not claim to be the creator of the style in her video, but "her post led to an influx of primarily white TikTok users recreating the look on the platform and crediting Bieber as their inspiration."
Bieber's fans argued her Brazilian mother could have inspired the look. Still, the article says it "has historically been associated with the distinct aesthetics of cholas, a subculture of first and second generation Mexican Americans, as well as Black and brown women."
"The controversy surrounding Bieber's 'brownie glazed lips' is hardly new—it's part of a larger conversation concerning cultural appropriation in beauty practices, especially when it comes to so-called trends that are popularized on platforms like TikTok and touted by influencers and celebrities," the article insisted.
Finally, Time argued, "The implications extend far beyond TikTok."
"Aesthetic trends practiced by women of color, like wearing braids, wigs, and elaborate acrylic nail art, have consistently been stigmatized until white women have tried them, suddenly making them cool or edgy," it added.
Advertisement - story continues below
The article was met with derision on Twitter. Check out some of the reactions below:
The issues that really matter… https://t.co/kDM5VcnULH

— Kimberly Ross (@SouthernKeeks) September 27, 2022
Hahahahahahahahahaha! https://t.co/fWmPUaZSgF

— Rita Panahi (@RitaPanahi) September 27, 2022
Stop it. https://t.co/2a5lotg22T

— BiasedGirl (@BiasedGirl) September 27, 2022
Advertisement - story continues below
— Caleb Howe (@CalebHowe) September 27, 2022
In today's news: Hailey Bieber wore lipstick.

Oh no! 🙈 😬 https://t.co/c3zVHHWeQ8

— Elizabeth Faddis (@elfaddis) September 27, 2022
Remember when America had serious news publications? We should go back to that. https://t.co/NEvYY8JDya

— Mark Hemingway (@Heminator) September 27, 2022
Should a black woman not die her hair blonde? Or a white woman not use tanning lotion?

So dumb.

Do better, @TIME https://t.co/NFBpPhLEGq

— Scott Taylor (@Scotttaylorva) September 27, 2022
Advertisement - story continues below
No it isn't. https://t.co/ZqDEuiW3Cg

— David Marcus (@BlueBoxDave) September 27, 2022
Has discrimination held back some styles from going viral in the beauty world? Sure. People can be foolish, it is a fact of life. And humans make dumb decisions and assumptions based on dumb biases.
But does that mean that white people now cannot use those styles out of fear that they will suddenly become "cool"? It shouldn't. It would have been one thing if Bieber claimed to be the first person on the planet to come up with the combination, but she did not.
Rather than complaining, why not say, "We started this. It's about time you caught up with the trend." Rather than being outraged, why not mock the dumb biases that kept those styles from going viral earlier?
Advertisement - story continues below
And in the grand scheme of things, if what some random model posts on TikTok is what's sparking outrage, you might need to rethink your perspective on life.
Truth and Accuracy
We are committed to truth and accuracy in all of our journalism. Read our editorial standards.
Comment Down Below
Conversation