News
Trump Hit With 3 'Pinocchios' for Claim About Value of Military Equipment Seized by Taliban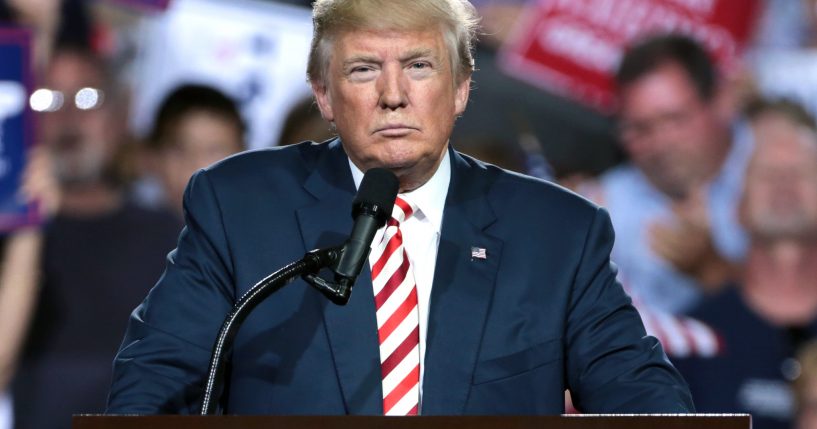 Former President Donald Trump claims the Taliban has seized $85 billion worth of American-made military equipment.
However, The Washington Post's fact-checker Glenn Kessler says that number is far too high.
In a statement on Monday, Trump said, "ALL EQUIPMENT should be demanded to be immediately returned to the United States, and that includes every penny of the $85 billion dollars in cost."
Advertisement - story continues below
Kessler wrote in an article published on Tuesday, "We don't normally pay much attention to claims made by the former president, as he mostly just riffs golden oldies. But this is a new claim. A version of this claim also circulates widely on right-leaning social media — that somehow the Taliban has ended up with $83 billion in U.S. weaponry. (Trump, as usual, rounds the number up.)."
He admitted that Trump's number is not "invented out of whole cloth" but includes funds spent to arm, house, and train the Afghan army and police. He added, "So weapons are just a part of that. At this point, no one really knows the value of the equipment that was seized by the Taliban."
He explained that the $83 billion figure comes from the Special Inspector General for Afghanistan Reconstruction's (SIGAR) July 30 quarterly report on all spending for the Afghanistan Security Forces Fund since 2001.
The fact-checker said that from 2005 to 2016, roughly 29% of spending for Afghan security forces went toward equipment and transportation. He added, "The transportation costs related to transporting equipment and for contracted pilots and airplanes for transporting officials to meetings. There appears to be no way to segregate transportation spending."
Advertisement - story continues below
Kessler continued:
"Using that same percentage, that would mean the equipment provided to Afghan forces amounted to $24 billion over 20 years. The GAO said approximately 70 percent of the equipment went to the Afghan military and the rest went to the national police (part of the Interior Ministry)."
Additionally, he noted that some equipment may be "obsolete or destroyed — or soon may not be usable."
He cited a report that without maintenance crews or contractor support, "None of the AAF's airframes can be sustained as combat effective for more than a few months."
Kessler also noted that before completing its withdrawal, the U.S. military "demilitarized"  70 MRAPs, 27 Humvees, and 73 aircraft.
Advertisement - story continues below
Finally, Kessler said, "U.S. military equipment was given to Afghan security forces over two decades. Tanks, vehicles, helicopters, and other gear fell into the hands of the Taliban when the U.S.-trained force quickly collapsed. The value of these assets is unclear, but if the Taliban is unable to obtain spare parts, it may not be able to maintain them."
"But the value of the equipment is not more than $80 billion. That's the figure for all of the money spent on training and sustaining the Afghan military over 20 years. The equipment portion of that total is about $24 billion — certainly not small change — but the actual value of the equipment in the Taliban's hands is probably much less than even that amount," he added.
Truth and Accuracy
We are committed to truth and accuracy in all of our journalism. Read our editorial standards.
Comment Down Below
Conversation