News
Trump Says Border Has Gone From the 'Most Secure' to a 'Broken, Dirty, and Disgusting Wreck'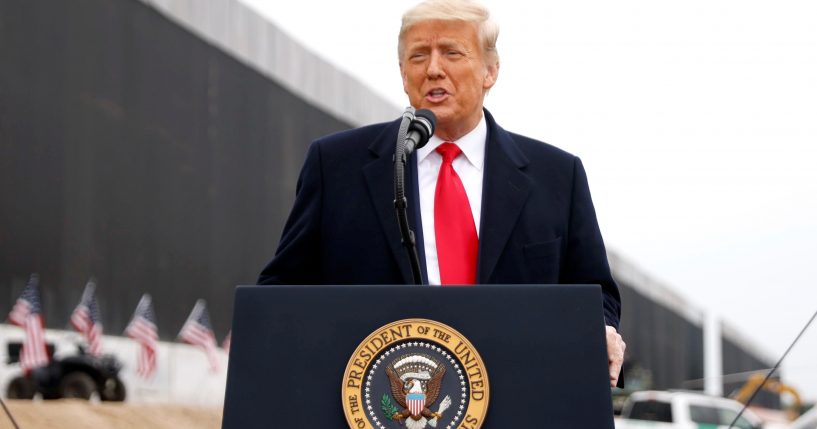 Former President Donald Trump is blasting his successor for his handling of the U.S.-Mexico border, claiming it has become a "broken" and "disgusting wreck."
In a statement on Tuesday, Trump said, "Our Border has gone from the safest and most secure in history, by far, to a broken, dirty, and disgusting wreck with thousands of unknown people from unknown countries, including from their now emptied prisons all over the world, unsustainably pouring in."
"No country has ever seen anything like what is happening on the Southern Border of the United States—and no country is stupid enough to allow such a thing to happen. Crime will go up at levels that the U.S. has never seen before (it is actually already there), and terrorism will be the next big wave to lead the way," he continued.
Advertisement - story continues below
He went on to claim that the border wall has been removed and "moved to storage dumps where it will begin the process of rotting and rusting away."
It was unclear what Trump was referring to when he claimed the wall was being removed. However, USA Today reported in February that some social media users claimed the wall would be torn down after President Joe Biden signed an executive order that ended construction projects on the wall.
As the paper notes, "The claim that President Joe Biden signed an executive order to tear down the border wall built during the Trump administration is MISSING CONTEXT. Biden signed an executive order to stop all projects and redirect funding away from border wall construction. He has said he would not tear down the existing wall along the nation's southern border."
Finally, Trump said, "Everything is falling apart, our Military is in shambles, the shelves of our stores are empty, COVID continues to rage at levels higher than last year, we have no oil, we have no courage, we have nothing. Our Country is a laughingstock all over the world, and is certainly no longer great, but we will Make America Great Again!"
Advertisement - story continues below
The former president's comments come as the U.S. is still experiencing a surge of migration and individuals attempting to cross the southern border. In August, authorities apprehended 208,887 individuals trying to cross the border, slightly lower than the 212,672 that were detained in July — which was a 21 year high.
As The Washington Post noted, from the time Biden took off through August, U.S. Customs and Border Protection apprehended 1.2 million migrants attempting to cross the border.
Do you think the border is a "wreck"?
A recent Quinnipiac University poll found that a majority of Americans do not approve of Biden's handling of the situation at the border or immigration issues, as IJR reported.
Truth and Accuracy
We are committed to truth and accuracy in all of our journalism. Read our editorial standards.
Conversation