News
Trump Shreds DOJ After 'Heavily Redacted' Affidavit Is Released: 'Obama Must Be Very Proud'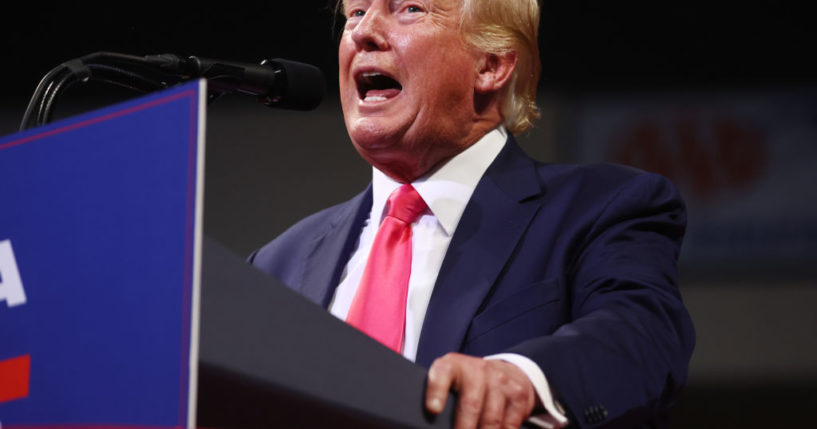 Former President Donald Trump is reacting to the release of the affidavit behind the raid of his Mar-a-Lago estate.
In a post on his Truth Social Platform on Friday, Trump wrote, "Affidavit heavily redacted!!! Nothing mentioned on 'Nuclear,' a total public relations subterfuge by the FBI & DOJ, or our close working relationship regarding document turnover – WE GAVE THEM MUCH."
"Judge Bruce Reinhart should NEVER have allowed the Break-In of my home. He recused himself two months ago from one of my cases based on his animosity and hatred of your favorite President, me," he continued.
Advertisement - story continues below
Finally, Trump added, "What changed? Why hasn't he recused himself on this case? Obama must be very proud of him right now!"
President Trump responds to the release of the heavily redacted affidavit: pic.twitter.com/MNTKuLgJvk

— Alex Bruesewitz 🇺🇸 (@alexbruesewitz) August 26, 2022
Judge Bruce Reinhart, who signed off on the warrant that led to the search at Mar-a-Lago, was chosen to be a magistrate judge by the U.S. district court judges in the Southern District Court of Florida.
It was not clear why Trump brought up former President Barack Obama.
Advertisement - story continues below
In a separate post, Trump wrote, "WITCH HUNT!!!"
Trump's posts come after the partially redacted affidavit that underpinned the raid at Mar-a-Lago was released on Friday afternoon.
As Politico notes, it shows that investigators obtained the warrant by "pointing to a raft of highly classified material they'd already obtained from there."
"Records the FBI obtained from Trump's Florida home in advance of the Aug. 8 search bore indications they contained human source intelligence, intercepts under the Foreign Intelligence Surveillance Act and signals intelligence, as well as other tags indicating high sensitivity. Several of those tightly-controlled documents contained Trump's 'handwritten notes,'" the outlet reported
It added, "In those boxes, agents found 184 unique documents, 25 of which were marked 'top secret,' 92 of which were marked 'secret,' and 67 of which were marked 'confidential'–the lowest level of national security classification. According to the affidavit, NARA officials found some of those 'highly classified records were unfoldered, intermixed with other records, and otherwise unproperly [sic] identified.'"
Advertisement - story continues below
The release of the affidavit comes weeks after law enforcement conducted a search of Trump's Mar-a-Lago resort.
Politico notes that law enforcement "had grown alarmed this spring after learning from the National Archives that Trump possessed 'highly classified' materials in a Mar-a-Lago storage room, some of which had been returned to the archives earlier in the year. But DOJ came to believe not all of it had been sent back."
"Trump's attorneys, meanwhile, delayed the FBI's access to the retrieved documents earlier this year, according to correspondence released by the Archives. Ultimately the department resorted to getting a search warrant in order to try and obtain the materials it believed remained at Mar-a-Lago," it added.
Shortly after the raid, The Washington Post reported that law enforcement officials were looking for documents related to nuclear weapons.
Advertisement - story continues below
Trump has maintained that the documents were declassified.
Truth and Accuracy
We are committed to truth and accuracy in all of our journalism. Read our editorial standards.
Comment Down Below
Conversation