News
Trump Shares Edited Video of Chris Christie's Campaign Launch — Has to Do With His Weight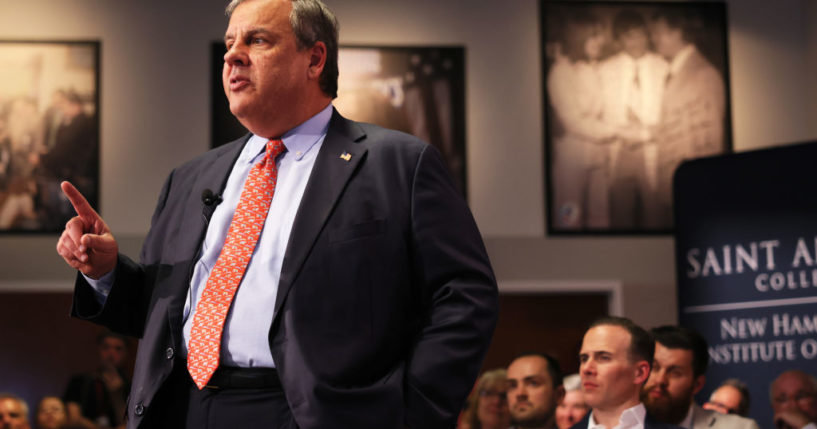 Former President Donald Trump is taking a shot at one of his 2024 primary rival's weight.
On Tuesday night, Trump posted an edited video of former New Jersey Gov. Chris Christie (R) announcing his presidential campaign.
It superimposed a picture of food and the word "Buffet" at the bottom of the video.
Advertisement - story continues below
Additionally, it was edited to make it appear Christie was holding a plate full of food while speaking.
"I wondered what our choice was going to be, were we going to be small, or were we going to be big," Christie said in the clip.
Watch the video below:
Chris Christie did a speech at an all you can eat buffet 😳 pic.twitter.com/JbsLECyuw4

— Ares (@godofwarsares) June 7, 2023
Advertisement - story continues below
In a separate post, Trump wrote, "How many times did Chris Christie use the word SMALL? Does he have a psychological problem with SIZE? Actually, his speech was SMALL, and not very good."
"It rambled all over the place, and nobody had a clue of what he was talking about. Hard to watch, boring, but that's what you get from a failed Governor (New Jersey) who left office with a 7% approval rating and then got run out of New Hampshire," he continued.
Finally, Trump added, "This time, it won't be any different!"
Read the post below:
🚨President Trump makes new statement on Chris Christie. pic.twitter.com/4MV9S5khIe

— The Calvin Coolidge Project (@TheCalvinCooli1) June 7, 2023
Advertisement - story continues below
Christie, who was once a defender of Trump, has become a critic of the former president. And while he believes there is a pathway to win the nomination, the former governor also reportedly has a goal of taking Trump down in the primary even if he doesn't win.
On Tuesday, he took aim at the former president, calling him a "lonely, self-consumed mirror hog."
"Beware of the leader in this country, who you have handed leadership to, who has never made a mistake, who has never done anything wrong, who when something goes wrong it's always someone else's fault. And who has never lost," Christie added.
As of June 6, FiveThirtyEight's polling aggregator found Trump leading the 2024 primary field with 53.7% of the vote.
Advertisement - story continues below
Meanwhile, polls from before his announcement have found Christie hovering around 1%.
Truth and Accuracy
We are committed to truth and accuracy in all of our journalism. Read our editorial standards.
Comment Down Below
Conversation