Trump Makes Major Blunders in His National Address on Coronavirus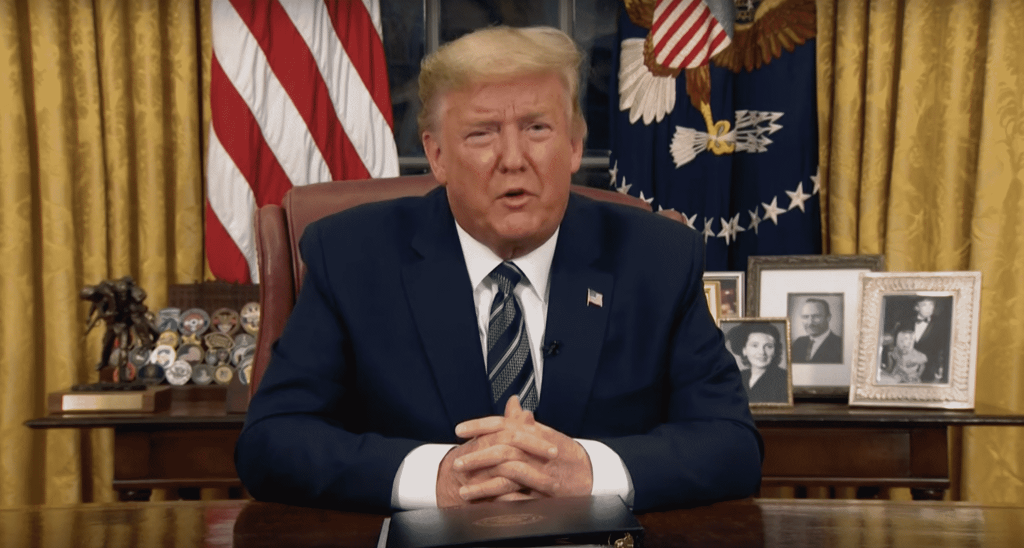 President Donald Trump made major blunders during his Oval Office address to the nation on Wednesday night.
Trump made the mistakes while announcing the federal government's planned response to the coronavirus, each of which has put him and Vice President Mike Pence — who is leading the effort — under fire.
When discussing a travel ban from Europe, Trump said Americans will be exempt that have "undergone appropriate screenings."
But shortly after, the Department of Homeland Security clarified that the travel ban will only apply to foreign nationals who have been to the 26 countries in the Schengen region of Europe within 14 days of arrival in the United States. The ban also doesn't apply to U.S. citizens or permanent residents and their families.
In reference to trade, Trump made another blunder.
He told the viewing audience that the travel restrictions would "apply to the tremendous amount of trade and cargo, but various other things as we get approval."
Shortly after, the White House said the ban does not apply to goods and trade cargo.
"The restriction stops people not goods," Trump also tweeted.
Hoping to get the payroll tax cut approved by both Republicans and Democrats, and please remember, very important for all countries & businesses to know that trade will in no way be affected by the 30-day restriction on travel from Europe. The restriction stops people not goods.

— Donald J. Trump (@realDonaldTrump) March 12, 2020
The mistakes left Pence flatfooted during an appearance on CNN when host Alisyn Camerota grilled him about the policy announcement.
"Why the confusion?" she asked.
"I don't think it was confusion," Pence responded. "The president took another historic step, just like he did in January with China, to suspend all travel from Europe for the next 30 days."
As of Thursday, stocks fell another 8%, setting off the second halt to trading this week. Over 130,000 people have been infected globally by the coronavirus and at least 4,900 people have died, according to The New York Times.
Published in IJR Blue