News
Trump Calls on GOP To Hold Off on Infrastructure Talks Until After 2022 Elections or Later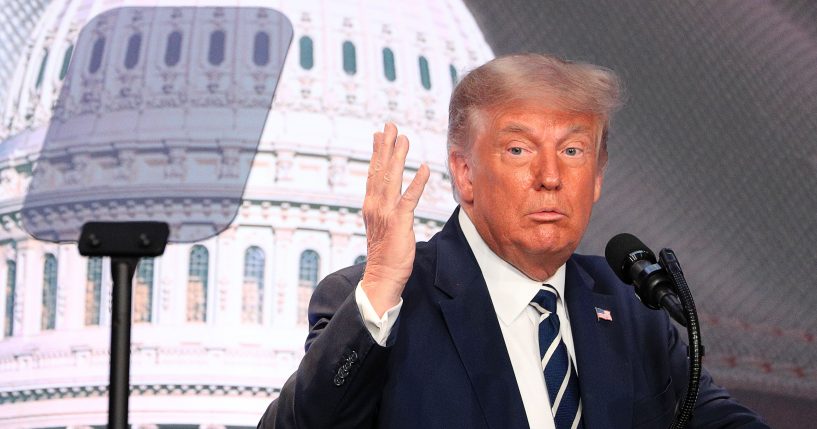 Former President Donald Trump wants discussions on a bipartisan infrastructure deal to be ditched by Senate Republicans — at least for now.
In a statement on Monday, the former president wrote, "Senate Republicans are being absolutely savaged by Democrats on the so-called 'bipartisan' infrastructure bill."
"Mitch McConnell and his small group of RINOs wants nothing more than to get a deal done at any cost to prove that he can work with the Radical Left Democrats," Trump added. "It is so important to him that he is agreeing to almost anything."
Advertisement - story continues below
The former president then declared, "Don't do the infrastructure deal, wait until after we get proper election results in 2022 or otherwise, and regain a strong negotiating stance. Republicans, don't let the Radical Left play you for weak fools and losers!"
Democrats currently hold a slim majority in the House of Representatives, and Democrats control the Senate.
A group of lawmakers in the Senate is working to finalize a roughly $1 trillion infrastructure proposal. As The Hill reports, the group hoped to have debate started on Monday, but they "signaled over the weekend that they were still stuck on final sticking points that threaten to push them further behind. "
Despite the optimism that a deal could be reached Monday, negotiatiors on a bipartisan infrastructure deal still have major issues to resolve, per Dem source, includes rescinding covid relief funds, Davis-Bacon, funding for highways, bridges and water projects — and transit

— Manu Raju (@mkraju) July 25, 2021
Advertisement - story continues below
Dems and WH have made a "global offer," Dem source says, to resolve outstanding issues. Whether GOP accepts or comes back with a counter remains to be seen. Talks continue today

— Manu Raju (@mkraju) July 26, 2021
"If this is going to be successful, the White House will need to show more flexibility as Republicans have done and listen to the members of the group that produced this framework," GOP source adds

— Manu Raju (@mkraju) July 26, 2021
They hit a snag on the amount to increase public-transit funding, according to The Wall Street Journal. Other issues include "details of broadband funding and a requirement that contractors on federally funded projects can't pay their employees anything less than the locally 'prevailing wage' for their services," the publication reports, citing a Democratic aide familiar with the discussions.
Truth and Accuracy
We are committed to truth and accuracy in all of our journalism. Read our editorial standards.
Comment Down Below
Conversation