Trump Claims Impeachment Is 'Absolutely Ridiculous' and 'Causing Tremendous Anger'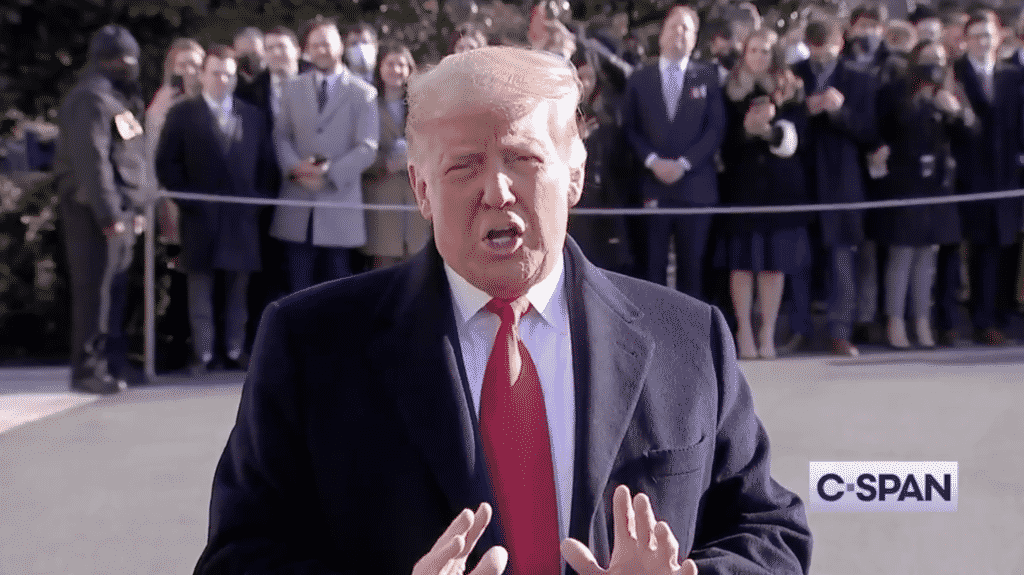 With the House poised to vote on an article of impeachment against President Donald Trump accusing him of inciting an "insurrection," the president is blasting Congressional Democrats for advancing the bid to remove him from office.
As the president left Washington, D.C., for a trip to the southern border on Tuesday, Trump addressed the latest impeachment push
Speaking to reporters, he said, "On the impeachment, it's really a continuation of the greatest witch hunt in the history of politics."
"It's ridiculous. It's absolutely ridiculous. This impeachment is causing tremendous anger, and you're doing it and it's really a terrible thing that they're doing," he continued.
Finally, he blasted Democratic Congressional leaders as he claimed, "For Nancy Pelosi and Chuck Schumer to continue on this path, I think it's causing tremendous danger to our country, and it's causing tremendous anger."
Watch the video below:
President Trump speaks to media at White House: "We want no violence…on the impeachment, it's really a continuation of the greatest witch hunt in the history of politics…I think it's causing tremendous danger in to our country…I want no violence." pic.twitter.com/XjiIfLrrTS

— CSPAN (@cspan) January 12, 2021
Amid House Democrats' 2019 impeachment proceedings against Trump, he accused lawmakers of engaging in "the greatest witch hunt in American history."
Trump also regularly referred to Special Counsel Robert Mueller's investigation of Russian interference in the 2016 election, and whether members of his campaign conspired with Russian officials to swing the election, as a "witch hunt."
House Democrats unveiled an article of impeachment against Trump on Monday, as IJR reported. The resolution charges the president with "incitement of insurrection."
"President Trump gravely endangered the security of the United States and its institutions of Government," the resolution alleges.
It adds, "He threatened the integrity of the democratic system, interfered with the peaceful transition of power, and imperiled a coequal branch of Government. He thereby betrayed his trust as President, to the manifest injury of the people of the United States."
The move to impeach the president comes days after a violent mob of Trump supporters stormed the U.S. Capitol, interrupting Congressional proceedings to certify the election results and leaving at least five people dead from the riot. 
Trump is slated to leave office on January 20, and there are doubts that Congress would vote to impeach and remove Trump from office with just over a week left in his term.
Sen. Joe Manchin (D-W. Va.) argued that it is unlikely that Senate Majority Leader Mitch McConnell (R-Ky.) would begin an impeachment trial before January 19 — which if the Senate voted to convict and remove Trump that day would shave, at most, one day off of his time in office.
Manchin did suggest that Trump could be convicted by the Senate after he leaves office. However, there is debate over whether Congress can impeach and convict a former president.
Still, some have noted that it could be possible that by impeaching and convicting Trump, he could be disqualified from holding office again. 
However, that too is debated by impeachment expert Ross Garber who claims the clause that disqualifies impeached and removed presidents from holding office in the future "does not include the presidency or a seat in the House or Senate."
Additionally, it is possible that Trump could run for a state-level post if he was impeached and convicted.