News
Trump Issues 2-Word Statement on Truth Social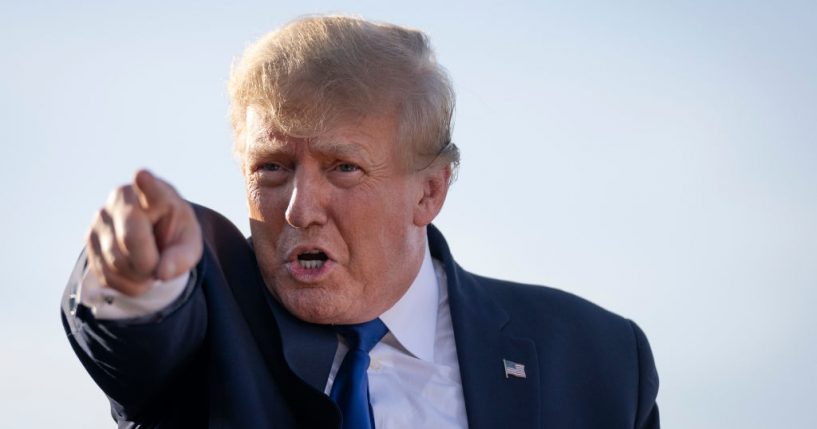 Former President Donald Trump is issuing his first official post on his platform Truth Social.
"I'M BACK!' the former president posted on Thursday.
Trump has over 2 million followers on the platform, as of Friday.
Advertisement - story continues below
Check it out below:
'I'M BACK!': Trump officially joins TRUTH social. https://t.co/TfHZD8grQO pic.twitter.com/hbIxtsbThr

— Fox News (@FoxNews) April 28, 2022
Trump's hashtag "COVFEFE" seemed to refer to his 2017 tweet where he wrote, "Despite the constant negative press covfefe." The tweet has since been deleted but garnered over 100,000 retweets and 100,000 likes prior to its deletion, per Fox News.
Truth Social, the Trump Media & Technology Group social media platform, had a soft launch on February 21.
Advertisement - story continues below
Former First Lady Melania Trump is also on Truth Social, with roughly 111,000 followers.
Independent Journal Review (IJR) has joined the platform, which can be found @theijr.
Will you be joining Truth Social?
On Monday, it was announced that the Twitter board agreed to Tesla CEO Elon Musk's offer to buy the company, as IJR reported on.
Musk poked fun at Truth Social this week when he posted a screenshot of Trump's platform sitting at the No. 1 spot on the Apple Store.
He tweeted on Wednesday, "Truth Social is currently beating Twitter [and] TikTok on the Apple Store."
Advertisement - story continues below
Musk later added, "Truth Social (terrible name) exists because Twitter censored free speech."
He continued in a follow-up tweet, "Should be called Trumpet instead!"
Despite worries from some that Musk will allow Trump back onto the platform, Trump indicated this week he does not plan to return to Twitter. Trump was permanently suspended from Twitter in February 2021.
The former president told Fox News, "I am not going on Twitter, I am going to stay on TRUTH. I hope Elon buys Twitter because he'll make improvements to it and he is a good man, but I am going to be staying on TRUTH."
Advertisement - story continues below
"We're taking in millions of people, and what we're finding is that the response on TRUTH is much better than being on Twitter," he also said. "Twitter has bots and fake accounts, and we are doing everything we can."
Adding, Trump said, "The bottom line is, no, I am not going back to Twitter."
Truth and Accuracy
We are committed to truth and accuracy in all of our journalism. Read our editorial standards.
Comment Down Below
Conversation