News
Trump Brushes Off Ivanka's Jan. 6 Committee Testimony: 'She Had Long Since Checked Out'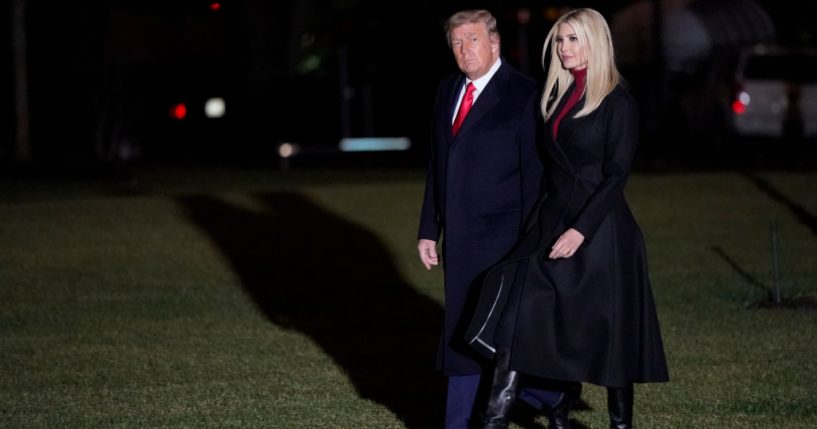 Former President Donald Trump is dismissing his daughter, Ivanka Trump's, testimony about her perspective on the outcome of the 2020 election.
Trump responded to his daughter's testimony in a post on his Truth Social platform.
"Ivanka Trump was not involved in looking at, or studying, Election results," he wrote.
Advertisement - story continues below
Trump added, "She had long since checked out and was, in my opinion, only trying to be respectful to Bill Barr and his position as Attorney General (he sucked!)."
The former president's comments come after the House committee investigating the Jan. 6 riot at the U.S. Capitol aired footage of Ivanka Trump before the panel.
In the video, she shared that then-Attorney General William Barr's statement that his department did not find evidence that fraud altered the outcome of the election impacted her perspective.
"It affected my perspective. I respect Attorney General Barr, so I accepted what he was saying," she said.
Advertisement - story continues below
Watch the video below:
Rep. Liz Cheney plays part of Ivanka Trump's testimony in Jan. 6 public hearing. In the clip, Trump claims she accepted that the Justice Dept. and AG Barr had not found voter fraud sufficient to affect the 2020 election. https://t.co/RdYLvfum24 pic.twitter.com/vJ8cbyfbLl

— MSNBC (@MSNBC) June 10, 2022
After the 2020 election, Trump repeatedly claimed that it was "stolen."
However, in Dec. 2020, Barr told the Associated Press, "To date, we have not seen fraud on a scale that could have effected a different outcome in the election."
In an op-ed published by The Wall Street Journal, Barr claimed Trump was furious about his comments to the AP.
Advertisement - story continues below
"You must hate Trump. You would only do this if you hate Trump," the former president allegedly said.
Barr wrote that he responded, "Our mission is to investigate and prosecute actual fraud."
"The fact is, we have looked at the major claims your people are making, and they are bullsh*t," he continued.
Barr added, "The reason you are in this position is that you wheeled out a clown show, and no quality lawyers who would otherwise be willing to help will get anywhere near it."
Advertisement - story continues below
In June 2021, Trump criticized Barr, and called him a "disappointment in every sense of the word."
Truth and Accuracy
We are committed to truth and accuracy in all of our journalism. Read our editorial standards.
Comment Down Below
Conversation