Trump on If He Finds Late Rep. John Lewis 'Impressive': 'I Can't Say'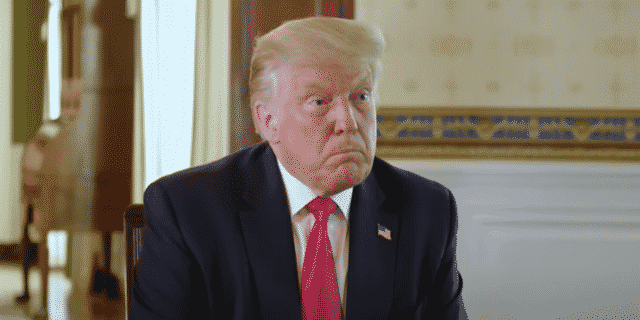 President Donald Trump says he does not know how history will remember late Rep. John Lewis (D-Ga.).
When asked during an Axios interview how Lewis — a civil rights icon — will be remembered, the president responded, "I really don't know."
Trump then turned to say that Lewis "chose not to come to my inauguration."
"I don't know John Lewis," he said. "He chose not to come to my inauguration. … I never met John Lewis, actually, I don't believe."
Asked by Axios' Jonathan Swan if he finds Lewis "impressive," Trump answered, "I can't say one way or the other. I find a lot of people impressive. I find many people not impressive."
"He didn't come to my inauguration," he reiterated, adding, "He didn't come to my State of the Union speeches. And that's OK. That's his right. And, again, nobody has done more for Black Americans than I have."
As Swan continued to press, asking if Lewis' personal story is impressive, Trump said, "He was a person that devoted a lot of energy and a lot of heart to civil rights, but there were many others also."
See Trump's comments below (starting at 35:24):
Lewis died on July 17 at the age of 80 after battling pancreatic cancer. He wrote in an op-ed published posthumously in The New York Times, "In my life I have done all I can to demonstrate that the way of peace, the way of love and nonviolence is the more excellent way. Now it is your turn to let freedom ring."
At Lewis' funeral on July 30 in Georgia, several prominent figures delivered speeches including former President Barack Obama and House Speaker Nancy Pelosi (D-Calif.).