Commentary
Trump Lashes Out at the Supreme Court for Paving the Way for the Release of His Tax Returns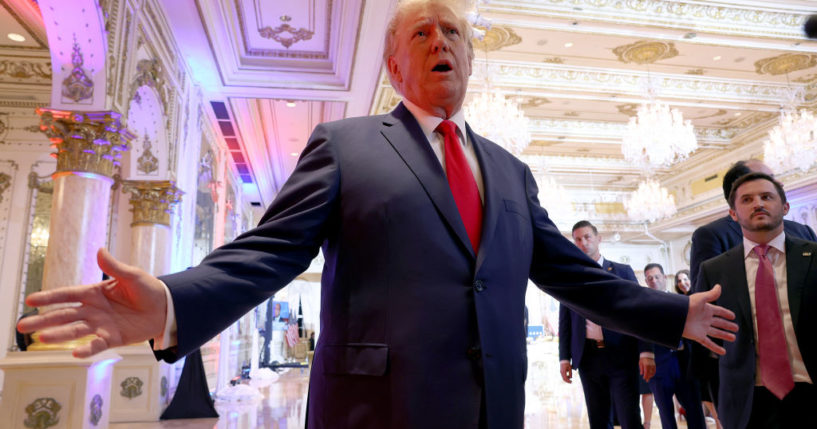 Former President Donald Trump is fuming at the Supreme Court for declining to shield him from having to hand over his tax returns to Congress.
In a post on his Truth Social platform, Trump wrote, "Why would anybody be surprised that the Supreme Court has ruled against me, they always do! It is unprecedented to be handing over Tax Returns, [and] it creates terrible precedent for future Presidents."
"The Supreme Court has lost its honor, prestige, and standing, [and] has become nothing more than a political body, with our Country paying the price. They refused to even look at the Election Hoax of 2020. Shame on them!" he added.
Advertisement - story continues below
It is worth noting three of the justices on the court were appointed by Trump — and there were no dissents.
— Election Wizard 🇺🇸 (@ElectionWiz) November 23, 2022
This is a continuation of a worrisome trend in American politics. After the high court overturned the landmark abortion case Roe v. Wade, Democratic politicians took to the streets in protest.
It is perfectly fine for politicians and elected officials to voice their displeasure with a ruling — as long as they agree to comply with it and refrain from attacking the legitimacy of the court and its decisions.
Advertisement - story continues below
But after the abortion decision, Rep. Alexandria Ocasio-Cortez (D-N.Y.) joined a protest and was seen on camera leading a crowd in chants labeling the decision "illegitimate."
BREAKING: Congresswoman @AOC has arrived in front of the Supreme Court and is chanting that the Supreme Court's decision to overturn Roe v Wade is "illegitimate" and calls for people to get "into the streets" | @TPUSA pic.twitter.com/jNkCYDrLtz

— Drew Hernandez (@DrewHLive) June 24, 2022
Meanwhile, Rep. Maxine Waters (D-Calif.) vowed to "defy" the court.
If the United States has a Supreme Court where one side consistently has every decision go in its favor, that is not really a sign of an apolitical court.
In a country where judges try to put politics aside in favor of the rule of law, both sides will be disappointed by decisions from time to time. It is part of the process and something Americans have faced for over 200 years. And in that time, Americans agreed to voluntarily accept the legitimacy of the rulings and comply with them.
Advertisement - story continues below
But it is not a good sign to have a former president and current presidential candidate attacking the rulings of the same court that could soon be ruling on the Constitutionality of his policies.
If Trump wins the Republican nomination and the 2024 general election after calling the Supreme Court a "political body," it is plausible we could see attempts to disregard rulings he does not like. And it would not be with out precedent.
President Joe Biden and his administration have recklessly gone about paving the way for that by trying to get around decisions by the court. In June 2021, the Supreme Court ruled that the Centers for Disease Control and Prevention (CDC) "exceeded its existing statutory authority" by issuing an eviction moratorium.
Yet, in August of the same year, the CDC decided to issue another eviction moratorium amid pressure from progressives despite the court's ruling. The court later blocked the freeze on evictions.
Advertisement - story continues below
And earlier this year, Biden accused the court of engaging in "destabilizing" and outrageous behavior" by overturning Roe.
Attacking the legitimacy of the Supreme Court's decisions is not a genie that can simply be put back in the bottle. Once you have elected officials calling into question the nature of its decision and its legitimacy, craven politicians on both sides will use those attacks to further undermine what would otherwise be a check on their own excesses.
When the court loses legitimacy in the eyes of the people, it will lose all its power. It has no army or police force to enforce its rulings. But if politicians are intent on labeling it political and illegitimate long enough, eventually that is how people will see it, and then there will be no reason to comply with its decisions.
Truth and Accuracy
We are committed to truth and accuracy in all of our journalism. Read our editorial standards.
Comment Down Below
Conversation