News
Trump Lawyer Laid Out 6-Step Plan for Pence Ahead of Jan. 6 To Overturn the 2020 Election: Memo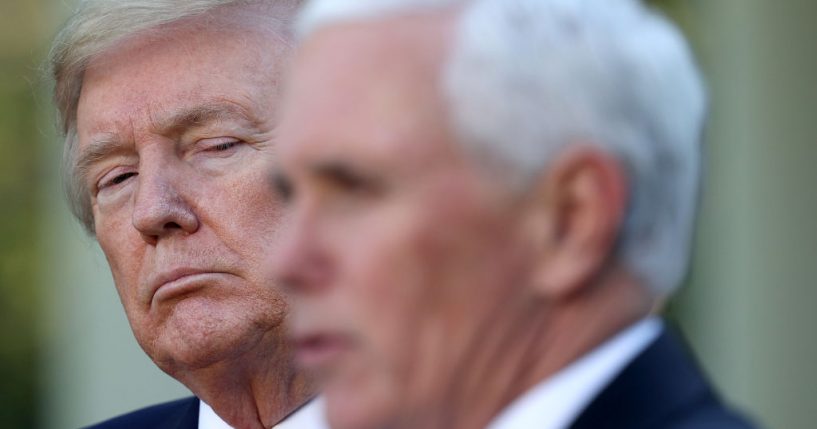 Vice President Mike Pence was pressed by a lawyer who worked for then-President Donald Trump's legal team with a six-step plan in an effort to overturn the 2020 presidential election results, according to a book.
Washington Post journalists Bob Woodward and Robert Costa, who wrote "Peril," received a two-page memo by controversial lawyer John Eastman which "provides new detail showing how Trump and his team tried to persuade Pence to subvert the Constitution and throw out the election results on January 6," CNN reports. The outlet also obtained a copy of the memo.
The memo was sent to Sen. Mike Lee (R-Utah). However, Lee said to Trump's lawyers, "You might as well make your case to Queen Elizabeth II. Congress can't do this. You're wasting your time," according to the book.
Advertisement - story continues below
Part of the six-step plan laid out in the memo included "throwing out the results in seven states because they allegedly had competing electors," per CNN.
As CNN reports on the memo:
"Under Eastman's scheme, Pence would have declared Trump the winner with more Electoral College votes after the seven states were thrown out, at 232 votes to 222. Anticipating 'howls' from Democrats protesting the overturning of the election, the memo proposes, Pence would instead say that no candidate had reached 270 votes in the Electoral College. That would throw the election to the House of Representatives, where each state would get one vote. Since Republicans controlled 26 state delegations, a majority could vote for Trump to win the election."
The plan was proposed to Pence on January 4. Trump reportedly said to Pence, "You really need to listen to John. He's a respected constitutional scholar. Hear him out."
Advertisement - story continues below
The memo also reads:
"The main thing here is that Pence should do this without asking for permission — either from a vote of the joint session or from the Court. […] The fact is that the Constitution assigns this power to the Vice President as the ultimate arbiter. We should take all of our actions with that in mind."
Check out the memo below:
This is the six-point plan advanced by Trump lawyer John Eastman for VP Pence to overturn the election on January 6th.https://t.co/IkgmEuCW8b pic.twitter.com/CXWTVY1LL7

— Christian Vanderbrouk (@UrbanAchievr) September 20, 2021
Ahead of the joint session of Congress on January 6, where Pence would preside over the electoral vote count and announce the winner at the end of the session, Trump told his supporters in Georgia, "I hope Mike Pence comes through for us, I have to tell you."
Advertisement - story continues below
Though Trump hoped Pence would change the results of the election, Pence wrote in a letter on January 6, "It is my considered judgment that my oath to support and defend the Constitution constrains me from claiming unilateral authority to determine which electoral votes should be counted and which should not."
Pence's role was largely cermonial.
The then-vice president added in his letter, "Some believe that as Vice President, I should be able to accept or reject electoral votes unilaterally. Others believe that electoral votes should never be challenged in a Joint Session of Congress. After a careful study of our Constitution, our laws, and our history, I believe neither view is correct."
Trump slammed Pence for refusing to overturn the election results, previously tweeting, "Mike Pence didn't have the courage to do what should have been done to protect our Country and our Constitution, giving States a chance to certify a corrected set of facts, not the fraudulent or inaccurate ones which they were asked to previously certify. USA demands the truth!"
Advertisement - story continues below
Woodward and Costa's book will be released on Tuesday.
Truth and Accuracy
We are committed to truth and accuracy in all of our journalism. Read our editorial standards.
Comment Down Below
Conversation