News
Trump Calls for 'New Leadership' for Senate GOP After McConnell Strikes Deal on Debt Ceiling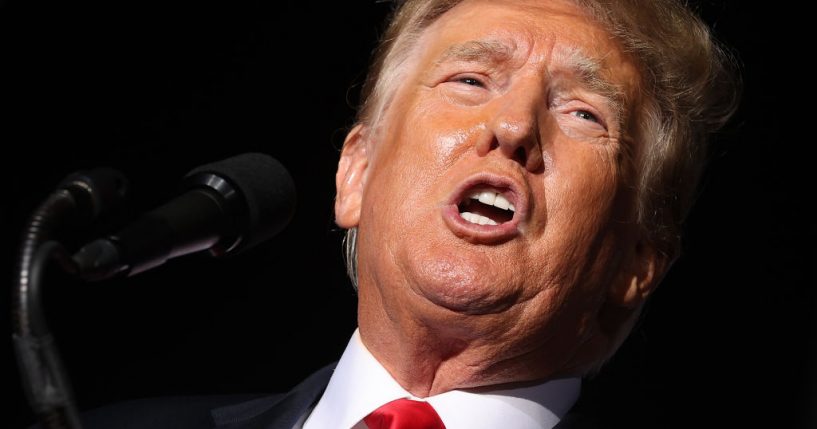 Former President Donald Trump is urging Senate Republicans to find a replacement for Senate Minority Leader Mitch McConnell (R-Ky.) after he made a short-term deal with Democrats to extend the debt ceiling.
During an interview with Fox News' Sean Hannity on Thursday, Trump said, "The Republican Senate needs new leadership, I've been saying it for a long time."
"Mitch is not the guy, he's not the right guy, he's not doing the job. He gave [the Democrats] a lifeline. It's more than a lifeline. He gave them so much time now to figure out what to do because they were in a real big bind. They wouldn't have been able to do anything. He had the weapon, and he was unable to use it, and it's a shame," he continued.
Advertisement - story continues below
Finally, he said, "That was not a good thing that happened today. He made a big mistake."
Listen to Trump's comments below:
🚨 | WATCH: Donald Trump calls for McConnell's ouster after giving Dems debt 'lifeline': 'Mitch is not the guy' to lead. #Trump #McConnell #FoxNews pic.twitter.com/LUqMXvBReS

— TV News Now (@TVNewsNow) October 8, 2021
The former president's comments come after 11 Senate Republicans voted on Thursday night to let Democrats move ahead with a bill to extend the debt ceiling into December.
Advertisement - story continues below
On Monday, McConnell told President Joe Biden that Republicans believe "since your party wishes to govern alone, it must handle the debt limit alone as well."
However, on Wednesday, McConnell said in a statement that Senate Republicans would "allow Democrats to use normal procedures to pass an emergency debt limit extension" through December to "protect the American people from a near-term Democrat-created crisis."
Do you think Republicans should have voted to increase the debt ceiling?
Prior to McConnell's offer, some Democrats were discussing making changes to the filibuster to pass an increase of the debt ceiling, the amount of money the U.S. can borrow to meet its existing obligations, and avoid defaulting on its debt which Treasury Secretary Janet Yellen says would yield "catastrophic" results.
The filibuster is a procedural hurdle used to delay or block legislation and means that most bills need at least 60 votes to pass the chamber. In the Senate, which is divided 50-50, Democrats would need at least 10 Republicans to vote for legislation for it to pass.
CNN's Manu Raju reports that McConnell decided to offer a short-term extension of the debt ceiling because he was concerned about the pressure facing Sens. Kyrsten Sinema (D-Ariz.) and Joe Manchin (D-W.Va.) to make a change to the filibuster.
Advertisement - story continues below
While McConnell cast his statement as a way to "save" Americans and give his colleagues more time to craft a reconciliation bill and increase the debt ceiling without Republican votes, Democrats are claiming victory.
Sen. Elizabeth Warren (D-Mass.) claimed the minority leader "caved."
In September, Trump said Republicans would be "foolish and unpatriotic" not to use the debt ceiling negotiation to force Democrats to "concede all of the horror they are trying to inflict upon the future of the United States."
Truth and Accuracy
We are committed to truth and accuracy in all of our journalism. Read our editorial standards.
Conversation