Commentary
Trump Cites Putin's Criticism to Blast Biden, DOJ Over His Prosecutions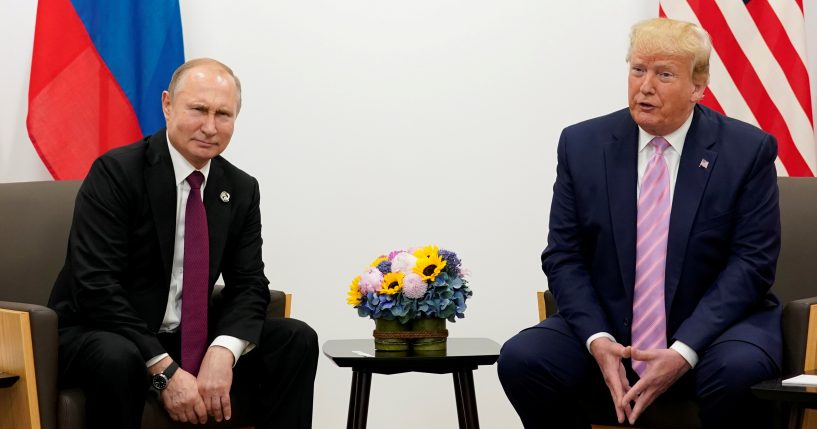 Former President Donald Trump has made a lot of defenses while he faces four indictments.
And he has made a lot of accusations about the Justice Department and President Joe Biden's alleged involvement in the trials he is facing.
But early on Wednesday morning, he went somewhere he just should not have: citing Russian President Vladimir Putin's criticism of the indictments.
Advertisement - story continues below
On Tuesday, Putin claimed the prosecutions of Trump are part of a "political persecution." He also claimed, "Everything happening at the moment is good. Because it demonstrates the rottenness of the American political system, which cannot pretend to teach others about democracy."
Naturally, Trump seized on Putin's comments to bash the Justice Department and Biden.
"It's all happening, even worse than anyone projected. President Vladimir Putin of Russia is using Crooked Joe Biden's illegal Banana Republic style treatment of his Political Opponent, who is beating him badly in the Polls, to condemn America and all of the good things it once stood for," Trump wrote on Truth Social.
He added, "The whole World is watching as the USA is being torn apart by dreams of Election Interference!"
Advertisement - story continues below
This is just unbecoming of someone seeking to be the President of the United States of America.
Even if you think every one of the four indictments is political, it is still unseemly to capitalize on the criticism of one of our main geopolitical foes to attack our legal system.
It is even more gross when you look at Putin's record of dealing with journalists and critics in Russia.
And frankly, who in their right mind cares what Putin thinks of our system? It's not as though Russia is a shining example on the world stage. And Putin has more issues to worry about like failing to win his war in Ukraine or someone else potentially trying to conduct a coup and depose him.
If this were coming from the prime minister of England it might be different. Well, maybe it wouldn't be too different for some people if it came from our one-time monarchical overlords. But if it was a country with a better track record of human rights and an ally of the United States, it might be a stinging rebuke.
Advertisement - story continues below
But Putin has a vested interest in tearing down the United States as a beacon of Western values and sowing distrust in our institutions. As such, even if Trump was arrested for shooting someone in broad daylight on Fifth Avenue, he would probably say it is a political prosecution and the guy, or girl, had it coming.
Clearly, Trump is using Putin's comments because he thinks it helps his case. Anyone who says anything bad about his indictments, he'll promote if he thinks it will help him. But reaching to the criticism of one of our main adversaries to attack our institutions and justice system is not the kind of behavior we should expect from someone who is a former president and is seeking that office once again.
Truth and Accuracy
We are committed to truth and accuracy in all of our journalism. Read our editorial standards.
Comment Down Below
Conversation