News
Trump Received Positive COVID Test Days Prior to Debate With Biden, Meadows Book Says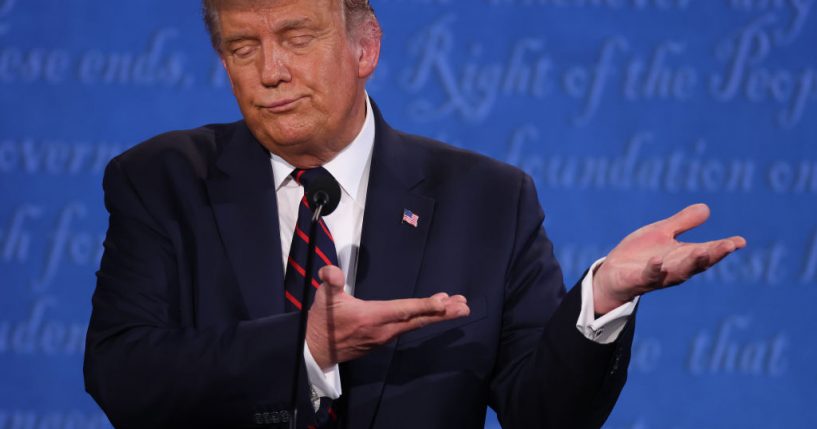 Former President Donald Trump tested positive for COVID-19 just days prior to his debate with then-Democratic presidential candidate Joe Biden, according to a book.
Three days before the debate, Trump received a positive COVID-19 test, according to former White House Chief of Staff Mark Meadows.
The Guardian, which received a copy of Meadows' book, reports, "Mark Meadows also writes that though he knew each candidate was required 'to test negative for the virus within seventy two hours of the start time … Nothing was going to stop [Trump] from going out there.'"
Advertisement - story continues below
A negative result from a test was received shortly after the test that came back positive on September 26.
"Nonetheless, the stunning revelation of an unreported positive test follows a year of speculation about whether Trump, then 74 years old, had the potentially deadly virus when he faced Biden, 77, in Cleveland on 29 September – and what danger that might have presented," The Guardian's Martin Pengelly writes.
As Pengelly reports, "Meadows says the positive test had been done with an old model kit. He told Trump the test would be repeated with 'the Binax system, and that we were hoping the first test was a false positive'."
Meadows says that Trump took the news of the negative test as "full permission to press on as if nothing had happened."
Advertisement - story continues below
"I didn't want to take any unnecessary risks," he writes, "but I also didn't want to alarm the public if there was nothing to worry about – which according to the new, much more accurate test, there was not."
The test that came back positive came shortly after the Rose Garden ceremony for then-supreme court nominee Amy Coney Barrett on September 26. The White House event has since been called a "superspreader event."
The public was not aware of the test results Trump received before the debate, as Pengelly notes.
Trump looked "a little tired" and it was suspected he had a "slight cold." However, he went on to hold a campaign rally in Pennsylvania on September 26. On the day of the debate, September 29, Meadows says Trump looked "slightly" better.
Meadows writes:
Advertisement - story continues below
"His face, for the most part at least, had regained its usual light bronze hue, and the gravel in his voice was gone. But the dark circles under his eyes had deepened. As we walked into the venue around five o'clock in the evening, I could tell that he was moving more slowly than usual. He walked like he was carrying a little extra weight on his back."
On October 2, Trump announced he and then-First Lady Melania Trump tested positive for COVID-19.
In a statement issued on Wednesday morning, Trump said, "The story of me having COVID prior to, or during, the first debate is Fake News. In fact, a test revealed that I did not have COVID prior to the debate."
Meadows' book, "The Chief's Chief," is expected to be released on December 7.
Truth and Accuracy
We are committed to truth and accuracy in all of our journalism. Read our editorial standards.
Comment Down Below
Conversation