News
Trump Reportedly Thought Kavanaugh Should Have Concluded 'The Election Was Rigged'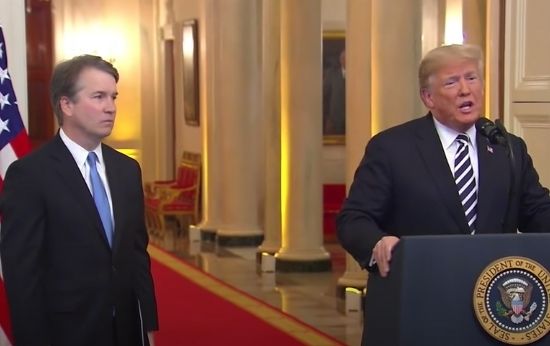 Former President Donald Trump's reported disappointment in Supreme Court Justice Brett Kavanaugh is continuing to make headlines.
The Washington Post's Carol Leonnig, who co-wrote the book, "I Alone Can Fix This," appeared on CNN's "New Day" Friday, where CNN's John Avlon mentioned a CNN report.
CNN reported on Friday that the FBI disclosed "it received more than 4,500 tips on a phone line in 2018 as part of a background investigation into then-Supreme Court nominee Brett Kavanaugh and provided 'relevant' ones to former President Donald Trump's White House counsel."
Advertisement - story continues below
Avlon asked Leonnig, "What is your read on that particular chapter and this new information about the FBI passing on this information to the White House about a Supreme Court nominee, now justice?"
Leonnig, who co-wrote the book with the Washington Post's Philip Rucker, responded, "It's stunning."
She continued, "But one thing that we need to keep in mind as well, it's amazing reporting, is the president was actively working with Mitch McConnell to make sure that that FBI investigation was limited, that it didn't go any further because they didn't need to want to know anything else. They needed this confirmation."
Leonnig then mentioned the conversation she and Rucker had with Trump about his picks for the Supreme Court. She said the now-former president is "disappointed" is "all the Supreme Court justices he appointed."
Advertisement - story continues below
"He's disappointed with Kavanaugh," Leonnig said. "He thought Kavanaugh should have been by his side and concluded that the election was rigged."
She added:
Do you support Kavanaugh on the Supreme Court?
"So, even though he did everything he could to stop information from coming out —  any more bloopers, anymore more bad information, anymore more reports about women and Kavanaugh or beer and Kavanaugh — now he's actually disappointed in this judge and disappointed in all the Supreme Court justices he appointed. They didn't deliver for him, and that's what he expected."
In the upcoming book "Landslide" by Michael Wolff, the author writes about his interview with Trump, in which the former president told him that he is "very disappointed" in Kavanaugh's votes, according to Axios.
Advertisement - story continues below
Trump reportedly blasted his three Supreme Court justices after an election-fraud lawsuit was tossed out by the Supreme Court in December 2020.
"There were so many others I could have appointed, and everyone wanted me to," Trump said.
He also said, according to the book, "Where would he be without me? I saved his life. He wouldn't even be in a law firm. Who would have had him? Nobody. Totally disgraced. Only I saved him."
Additionally, Trump suggested Kavanaugh "hasn't had the courage you need to be a great justice."
Advertisement - story continues below
As Wolff writes, Trump feels betrayed by Supreme Court Justices Neil Gorsuch and Amy Coney Barrett, as well as Kavanaugh, but he feels "reserved particular bile for Kavanaugh."
In February, the Supreme Court rejected a handful of Trump and his allies' 2020 election cases.
Truth and Accuracy
We are committed to truth and accuracy in all of our journalism. Read our editorial standards.
Comment Down Below
Conversation