News
Trump Rips US Women's Soccer Team: 'They Would Have Won Gold' if They Were Not 'Woke'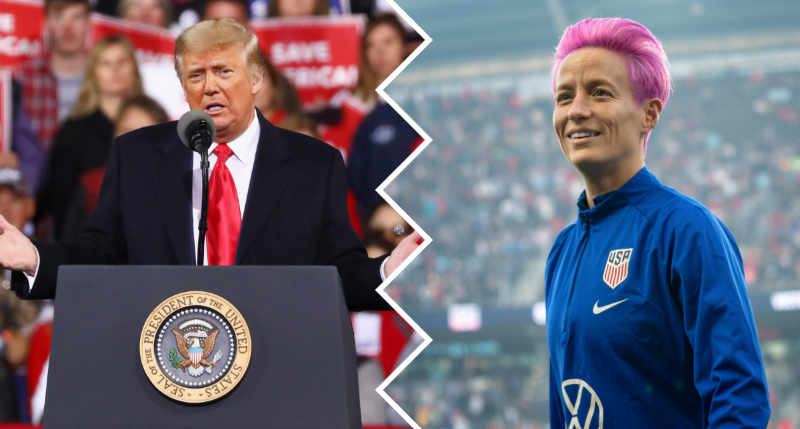 Former President Donald Trump is taking aim at the U.S. women's soccer team after it won the bronze medal in the Tokyo Olympics.
In a statement on Thursday, Trump said, "If our soccer team, headed by a group of Leftist Maniacs, wasn't woke, they would have won the Gold Medal instead of the Bronze. Woke means you lose, everything that is woke goes bad, and our soccer team certainly has."
"They should replace the wokesters with Patriots and start winning again. The woman with purple hair played terribly and spends too much time thinking about Radical Left politics and not doing her job!" he added.
Advertisement - story continues below
Read the statement below:
Trump not happy with US Women's soccer: "The woman with the purple hair played terribly…" pic.twitter.com/mP9jImGz2w

— Charlie Spiering (@charliespiering) August 5, 2021
Trump's statement comes after the women's soccer team won the bronze medal in the Olympics after defeating Australia 4-3 on Thursday.
His statement specifically mentioned Megan Rapinoe, who he has previously taken aim at.
Advertisement - story continues below
In 2019, Rapinoe was asked if she was excited about possibly going to the White House if the team won the World Cup that year.
"I'm not going to the f***ing White House," she said as she suggested the team would not be invited even if they won.
Trump shot back on Twitter, writing, "Megan should WIN before she TALKS."
He added that he would invite the team "win or lose" and, "Megan should never disrespect our Country, the White House, or our Flag, especially since so much has been done for her & the team. Be proud of the Flag that you wear. The USA is doing GREAT!"
In 2016, Rapinoe kneeled before a game as the national anthem was played. After the U.S. Soccer Federation required that players stand for the anthem, she started standing but would not sing or place her hand over her heart.
Advertisement - story continues below
The team's bronze medal is the first time they won a medal since the 2012 Olympics.
Truth and Accuracy
We are committed to truth and accuracy in all of our journalism. Read our editorial standards.
Comment Down Below
Conversation