News
Trump Hails Schumer's 'Do It the Hard Way' Approach To Infrastructure, Knocks McConnell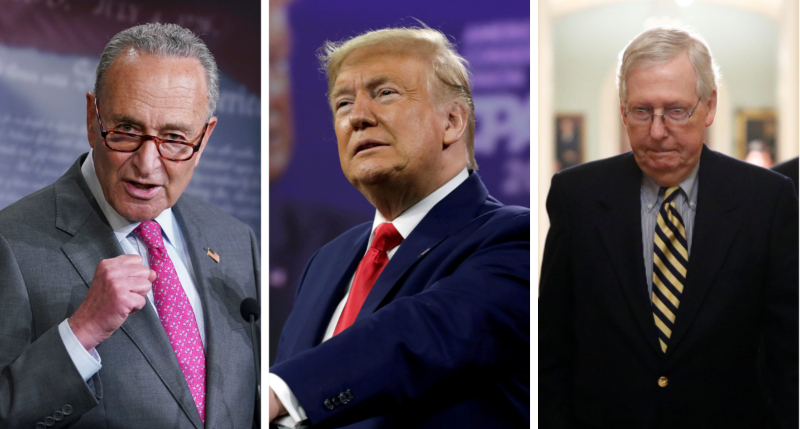 Former President Donald Trump is offering some praise for Senate Majority Leader Chuck Schumer's (D-N.Y.) handling of the $1.2 trillion bipartisan infrastructure bill, while blasting Senate Minority Leader Mitch McConnell (R-Ky.)
In a statement on Sunday, Trump said, "This is not an infrastructure bill, this is the beginning of the Green New Deal. The bill I proposed, which Mitch McConnell couldn't do anything with, was pure infrastructure. I want what is best for America, not what's best for the Communist Democrat Party."
"This will be a big victory for the Democrats and will be used against Republicans in the upcoming elections. Schumer is using the threat of 'we can do it the hard way or do it the easy way' and keeping people in town. McConnell never did that on a real infrastructure bill," he continued.
Advertisement - story continues below
Finally, he said, "Hopefully the House will be much stronger than the Senate."
The former president's statement comes as the Senate voted 68-29 to end debate on the bill, paving the way for a final vote on the package.
McConnell has signaled support for the infrastructure package as he said, "The American people need roads, bridges, ports, and airports to build their businesses, build their families, and build their lives."
Most legislation in the Senate requires 60 votes to pass. If the 18 Republicans who voted in favor of ending the debate support it in the final vote, the package would pass.
Advertisement - story continues below
Schumer vowed that the chamber would stay in session until "we finish our work."
"We can get this done the easy way or the hard way," he said.
Should Republicans vote for the infrastructure bill?
As senators hammered out the details of the bipartisan infrastructure package, Trump released several statements urging Republicans to block it.
He has previously blasted McConnell as he claimed the Kentucky senator is "giving Democrats everything they want and getting nothing in return. "
Truth and Accuracy
We are committed to truth and accuracy in all of our journalism. Read our editorial standards.
Conversation