Trump Shares Full '60 Minutes' Interview That He Walked Out of: 'That's Enough'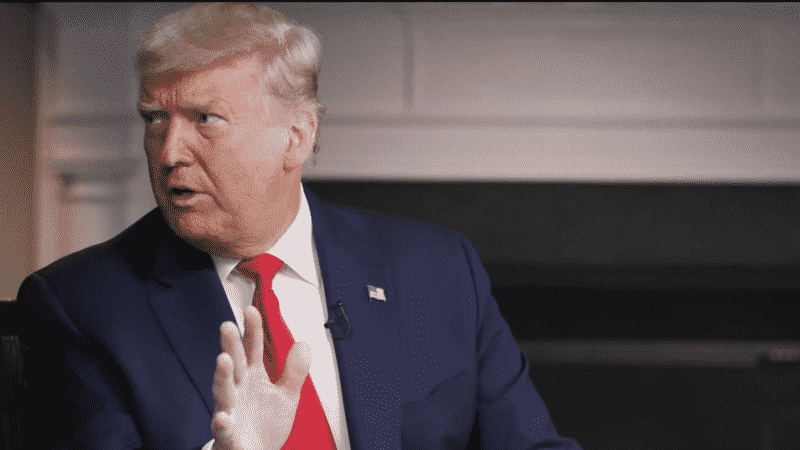 President Donald Trump has threatened the past few days to post the video of his interview on CBS "60 Minutes" "for the sake of accuracy in reporting."
The interview was set to air on Sunday, but Trump was not going to wait. The president posted the video in full to Facebook on Thursday.
"Look at the bias, hatred and rudeness on behalf of 60 Minutes and CBS. Tonight's anchor, Kristen Welker, is far worse!" Trump tweeted on Thursday, along with the video link.
Trump was asked by CBS' Lesley Stahl before the interview began if he was "ready for some tough questions," to which he responded, "Just be fair."
When asked again if he is OK with "some tough questions," Trump said, "No… I'm going to be fair. You don't ask Biden tough questions. It's terrible."
The two then began the interview. But near the end, Trump claimed that Stahl asked inappropriate questions "right from the beginning."
"No, your first question was, 'There's going to be tough questions,' you set up the interview," Trump added before Stahl interjected to say, "Mr. President don't you think–."
Trump continued, "Excuse me," later saying she did not ask Democratic presidential nominee Joe Biden tough questions, though Stahl was not the one who interviewed the former vice president on "60 Minutes."
"It was a joke," Trump said, adding, "I see Joe Biden getting softball after softball. I see all of his interviews. He's never been asked a question that's hard."
Watch the video below:
When a person behind the scene noted that there were five minutes until a walk-and-talk with Vice President Mike Pence and Trump, the president said, "I think we have enough. We have enough."
A production assistant then said, "I think we're ready for the vice president now," before Trump added, "OK, that's enough. Let's go."
Trump was not the only one interviewed on "60 Minutes." This week both Democratic presidential nominee Biden and his running mate Sen. Kamala Harris (D-Calif.) were interviewed as well.